Appears in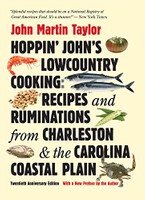 Nothing so spells summer in South Carolina to me as the fresh figs of July and August. There are trees 20 feet tall, covered with figs, in postage- stamp-size Charleston courtyards. My father once planted a fig cutting at his home in Beaufort, expecting to wait the seven years everyone had told him it would take to bear. The following summer he had a fig! The second summer, three. And the third year, we harvested a quart a day for six weeks from his 10-foot "cutting."
Figs quickly established themselves in the Lowcountry after the Spaniards brought them here in the 16th century; unlike peaches, they are hardy right up to the ocean's edge. The best way to eat them is raw, but I include two ways to preserve them.
Harvest figs in the early morning before the birds get them and always pick them with stems attached.
© 1992 All rights reserved. Published by UNC Press.