Appears in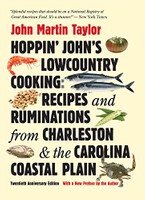 Spaniards had brought figs, pomegranates, and peaches to the region a hundred years before Carolina was founded by the English. Naturalized and well established, these and other exotica were taken for granted by Charlestonians from the beginning, even though peaches won't grow on the coast. The nearest orchard to the "Holy City" is about 60 miles inland, but as soon as the first clingstones begin to ripen, trucks full of half-bushel baskets appear along the Ocean Highway and in suburban parking lots for the rest of the summer.
I wait until the first freestones appear (they are easier to work with—and often more delicious), then buy myself a half-bushel basket or two and forfeit one July day to the kitchen. It's a labor of love to cook peaches in the heat of summer when you'd rather be having them out of hand, in ice cream, or in daiquiris, but it is well worth the effort. One day of cooking peaches, then I'm free to enjoy them fresh for the rest of their season—and I have a pantry full of delicacies for the fall and winter.
Boiling a fresh peach in spiced vinegar and sugar may not seem to be an entirely sane project. But spiced peaches appear not only in all the old Carolina cookbooks but also in the 18th- and 19th-century English and even French cookbooks, which led the way for Lowcountry cooks. Elizabeth David suggests serving them alongside ham or turkey, and indeed no taste so conjures up childhood Thanksgivings and Christmases for me as these sweet pickled globes served here in lieu of the New Englander's cranberry sauce.
Go ahead and buy a half-bushel of tree-ripened peaches from a reliable source. It will weigh about 22 pounds, and the count will be from 75 to 100 peaches. The dozen hardest ones can be spiced. Another dozen or so can be dried as leather. Children especially love these homemade "fruit rollups." Another 2 dozen can go for ice cream or daiquiris. And the remaining peck will give you 10 pints of my exotic chutney. Remove the kernels inside the pits, and you can make a quart of ratifia (noyau) as well.
© 1992 All rights reserved. Published by UNC Press.