Appears in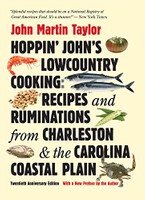 It was in Newport, Rhode Island, where generations of Charlestonians had vacationed, that I stumbled upon Old Receipts from Old St. John's, a handmade book of photos and recipes from antebellum plantations in Berkeley County, South Carolina. The year was 1984, and I was, at the time, the food editor of a French magazine in New York. Though I had spent most of my life in the Lowcountry, just a few miles from St. John's, I didn't recognize much of the food so lovingly documented in the old book, which, I suspected, had escaped the widespread flooding of plantations that had followed the construction of a big hydroelectric dam in the late 1930s. Had so many Lowcountry recipes disappeared in just a few decades? The book was unsigned, which made me think that it had been written prior to the Nineteenth Amendment (1920), when the names of Lowcountry ladies did not appear in print except at birth, marriage, and death.
Shortly thereafter, I interviewed Karen Hess, the culinary scholar, on the history of Thanksgiving. I showed her the book, she confirmed that it was from the early twentieth century, and in tandem we began to research the all-but-disappeared grand cooking of the Lowcountry, our interest piqued by the intriguing dishes in Old Receipts. In 1986 I moved home to Charleston to open Hoppin' John's, my culinary bookstore. There was a mere handful of restaurants in town, few of which served any traditional Lowcountry dishes other than pasty versions of she-crab soup. Several self-described soul food houses served fried fish and red rice, but that was about it. There was no farmers' market. Shrimpers, fishermen, chefs, and home cooks were not using the fatty, flavorful shrimp heads to make stock. I could not find stone-ground, whole-grain, heirloom corn grits and meal, and not a single Charleston restaurant that I know of was serving Shrimp and Grits.
Where were the rice breads, the sorrel omelets, and the fennel soups that I was finding in old Carolina cookbooks and plantation records? Where was the calves' foot jelly I read about in old novels, or the vast stores of claret and port that nearly every Charleston townhouse once boasted?
I set out on a mission to educate both myself and my clients. I found millers growing and grinding the right corn, the right way, and offered freshly ground grits and meal in my shop. I wrote about traditional charcuterie in Charleston's alternative newspaper, Omnibus. I profiled my millers in the New York Times. I began speaking at culinary conferences and museums, extolling the virtues of Lowcountry cooking. My work was featured in academic journals and the popular press. I taught cooking classes, eventually expanding my shop to include a teaching kitchen. Little by little, people heard my call for a return to the fresh, local, and traditional. The New York Times deemed me "lococentric." Shrimp and Grits began appearing on restaurant menus, not only in Charleston but across the country. By the time the original edition of this book was released, I had grits buyers in all fifty states. Of that I am most proud.
As I now read through the original edition of Hoppin John's Lowcountry Cooking, I am saddened by how many of the great cooks in the book have since died. Most of the traditional butcher shops have closed. It's still impossible to find rice bread. But I'm thrilled that culinary history, which was a new field in the 1980s, has become a recognized academic discipline. Today we know a lot more about the journey of the tomato, heirloom crops, and African American foodways than we did twenty years ago.
Both Charleston and the Lowcountry have changed dramatically in the last two decades. There are now dozens and dozens of restaurants in the area, some internationally renowned. Chefs are serving not only stone-ground grits with their fresh, local shrimp, but also traditional pilaus, condiments, and fish that were formerly considered "trash." Sausage-making has all but become a competitive sport. Wine and gourmet shops abound. Stocks made from heads-on shrimp flavor the regional soups, stews, and rice dishes. Many traditional southern ingredients are now available online, including my grits and cornmeal. To have led the way, or at least helped clear the path, also makes me proud.
The Charleston Farmers Market, which I helped found, is a major tourist attraction, not just a place for locals to find Sieva beans and homemade Chow-Chow. Development has been rampant, however aesthetically friendly. There are several new urban villages in the area. Excellent veal, lard, and sorghum are much easier to find these days. Canned stocks have improved immensely. Many more varieties of local fish are now available, including cobia. Rice is being grown again on several farms; the bobolinks are back in full force.
I rue some of the changes. Climate change has seen water moccasins traveling north of the Fall Line. Beavers now come down into the Lowcountry in search of habitat. I no longer eat shark or tuna unless I am absolutely certain of the species and its provenance: both fish families have threatened members. Local caviar from Atlantic sturgeon is rarely available, so often are the bans on that endangered fish. And several of my old fishing holes and wild oyster beds have become favored anchorages of the hundreds of new boaters.
I, too, have changed. In 1999 I closed my shop and cooking school to concentrate on writing and photography. In 2004 I moved out of state. I have traveled extensively, sampling delicious, farm-raised oysters in England and France and olive oils, as a guest of the International Olive Oil Council, throughout the Mediterranean. I've enjoyed inventive and exotic cooking in Sicily, Istanbul, and Sri Lanka. In 2007 I began writing a blog.
I've served Huguenot Torte in the Balkans and Pickled Shrimp in Rome. I've made Cheese Straws on Barbados, Shrimp Pilau in London, and Red Rice in Quintana Roo. I've served Champagne Punch and Carolina Rice Bread to the director of the Metropolitan Museum and have taught people how to make cornbread at Monticello. I've fed Boiled Peanuts to an audience at the Smithsonian and prepared Frogmore Stew and Deep Fried Turkey on national television. I've feted foreign ambassadors with gumbo and cobbler.
I've yet to meet a soul who didn't agree that this food is as good as it gets.
I've kept my old friends, and made new ones. Dixie and Rentz Woodruff, Dana Downs, Dee Gazzola, Gilson Capilouto, Richard Little, Daphne Derven, Chuck Dalby and Bruce Rashbaum, Ann and Larry Cove, Betsey Apple, and Tom Sietsema have shared their kitchens with me. I cannot thank them enough.
I am indebted to my family, who have encouraged my every adventure and who continue to spread the gospel of Lowcountry cooking in South Carolina, and to my loyal readers and grits buyers. I am humbled by the University of North Carolina Press's decision to issue this twentieth anniversary edition. A special thanks to Frances Kennedy and Doe at the Doe Coover Agency, and to Marcie Cohen Ferris, whose words of praise were heartwarming. And to my husband, Mikel.
I hope you will get as much joy from this book as I have.
John Martin Taylor Sofia, Bulgaria 2012
© 1992 All rights reserved. Published by UNC Press.