Appears in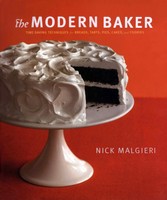 a. Using a bench scraper on a lightly floured surface, begin folding over the rested soft dough (here we use a pain de campagne).
b. After folding over one third, fold over the second third with the bench scraper.
c. This shows the smoothness of the finished folded-up, risen dough.
© 2008 Nick Malgieri. All rights reserved.