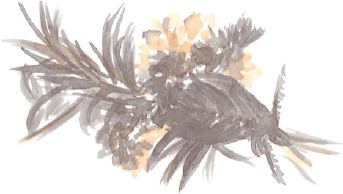 You can buy sachets of bouquet garni, but it is far cheaper to make your own. Simply tie a small bouquet of herbs together with string. A collection of three to five herbs will do-generally bay, rosemary, thyme and parsley-but ring the changes. A Victorian recipe I know suggests using cinnamon, garlic, mace and red pepper among ten or twelve others-hardly a bouquet, more a cornucopia.
Beans and grains will sprout in a dark or light place, but they like a pleasant room temperature (13°-22°C/55°-70°F).
They must be washed with fresh water twice a day, then drained thoroughly or else they will rot.
After the sprouts have been harvested, they can be kept in the refrigerator for up to a week.