Appears in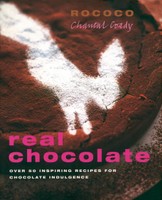 I found a shop in the King's Road, which I felt was the perfect location. The type of punter on the street was very mixed: punks extorting money from Japanese tourists who took their photographs, the privileged Chelsea children (who bought, sold and consumed serious drugs in the local hostelries) and the residents who were to become the hard core of my clientele. Having vowed never to sell rose or violet creams, I had to buck up my ideas fast if I was going to keep the Establishment happy. I managed to persuade small, family chocolate makers to supply me with a range of handmade chocolate and Easter eggs, and also found suppliers of sugared almonds and other delicacies at the huge trade fair in Cologne. I certainly had no idea about how actually to make chocolates at that time, but I did now have an idea about what was good, even if my attitude to customer service was somewhat remiss.
Opening for trade three weeks before Easter nearly killed me. However, with the help of many kind people, including suppliers, who probably thought I was mad or a rich kid on a whim, somehow I managed to pull it all together. To begin with I ran the shop with the help of my brother and sister, but we spent as much time bickering as serving customers, so after a while they went their separate ways. I had one salutary experience in the first month of opening when I was quoted in the business section of The Sunday Times in response to the question 'What is the worst thing about running you own business?' replying, 'You could say we get a fair number of insufferable old bags in here.' I was definitely in post-Harrods trauma, and fortunately only one young man took me to task over it saying, 'You might have been talking about MY mother!'
Luckily, few of the people who did read the piece ever identified themselves as being 'old bags', and most seemed amused by the faux pas. Soon I was a reformed character, and when someone was particularly rude or obnoxious, I would smile extra sweetly, never rise to the bait, and gradually there was a sea change. My favourite old lady, Miss Biddy Cook, one of the fiercest 'old bags', even apologized for her early behaviour, when she had taken every opportunity to get under my skin, and failed miserably, it made my day when she said, 'My Dear, I am so ashamed about how I used to behave when you first opened. I really did not believe that you stood a chance…'
With the help of my art school friends, Frank Taylor and Kitty Arden, I transformed the interior of the shop into a theatrical stage set inspired by the word 'rococo'. The walls were stippled in candy-floss pink, and so was my hair. I found the only person in England who could make a chandelier out of sugar, and I gradually transformed myself into an eighteenth-century stage character, with punk overtones. This all sounds rather ridiculous now, but at the time it seemed the right thing to do and everyone seemed to love it. What was right, though, was my feeling that most people could share my passion for real chocolate, and that by following this conviction I was capable of changing the perception of chocolate for countless individuals.
The word 'rococo' started to have deeper resonance for me and the business as I discovered that there was a Rococo period in London, and much of it based around the area in which I lived and worked. There were the Chelsea Potters, who made exquisite platters covered in shells and Crustacea, the Ranelagh and Vauxhall Pleasure Gardens, where Handel performed his operas, and the Huguenot silk weavers who took refuge in Spitalfields away from the political persecution in France. I played only baroque music or opera in the shop, and became something of a 'barocky', and so was able to add a musical dimension to the Rococo experience.
© 2003 Chantal Coady. All rights reserved.