Appears in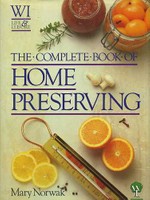 Success in bottling depends on three things: heating the fruit sufficiently; closing the bottles while they are hot; and making sure that airtight jars are used.
Some fruits need more heating than others, and if the fruit is tightly packed in the jar, so that there is less than ¼ pint/125ml syrup or water in a 1lb/450g jar, it needs longer heating than a looser pack. Large jars also need more heating than small ones. If the jars of fruit are heated in an oven, the time of heating will depend both on the kind of fruit used and on the number of jars being bottled.
© 1978 Mary Norwak estate. All rights reserved.