Appears in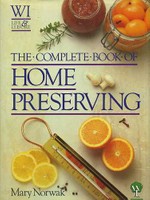 This method can be used for green or dark-coloured fruits, but light ones discolour. The temperature reached is not high enough for solid-pack tomatoes, apples or soaked strawberries.
Pre-heat the oven for 15 minutes at a setting to give 250°F/130°C/Gas Mark ½ at the end of that time. As settings for the oven temperatures vary, an oven thermometer is the surest guide. Keep the oven at this setting during processing.
Pack the jars tightly with the prepared fruit, put on the lids, but do not add the syrup, rubber rings, clips or screw-bands. Put the jars 2in/5cm apart on cardboard or on a baking sheet lined with newspaper in the central part of the warm oven. Vary the cooking time with the kind of fruit and the total capacity of the jars in the oven, e.g. two 2lb/900g jars require the same time as four llb/450g jars. After heating for the required time, remove the jars one at a time from the oven and fill each one quickly to the brim with boiling syrup or water, or for whole tomatoes, with boiling brine. Have ready the rubber rings in boiling water, quickly place a ring on the jar, replace the hot lid and fit on the clips or tightly screw on the screw-bands. Seal the jars with minimum delay after taking from the oven.
© 1978 Mary Norwak estate. All rights reserved.