Appears in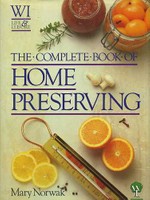 It is often convenient to store the screw-bands on the bottles and if so, these should be washed, dried thoroughly and rubbed on the inside with a little oil, and put on loosely. Spring clips should never be stored on the bottles.
Fruit stored in a warm place will lose its colour, so that the jars should be kept in a cool place away from sunlight. Labelling the jars with the date of bottling will help to ensure their being used in rotation.
© 1978 Mary Norwak estate. All rights reserved.