Appears in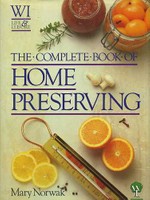 Apples and pears can be kept through to the spring without any need to bottle or freeze them. In general, early-maturing varieties will not keep long and should be used quickly. Late-maturing varieties will store for a long time however, and some of the best are:
Eating apples. Blenheim Orange, Cox's Orange Pippin, Laxton's Superb, Ribston Pippin and Sturmer Pippin.
Cooking apples. Annie Elizabeth, Bramley's Seedling, Edward VII, Lane's Prince Albert, Newton Wonder.
Pears. Catillac, Glous Morceau, Josephine de Malines, Winter Nelis.
Fruit should be picked only when fully matured and when the stalk parts easily from the branch if the fruit is lifted gently. Leave very late varieties such as Sturmer Pippin on the tree until storms or frosts threaten. Store only sound fruit without bruises, scabs or cracks, or missing stalks, and handle the fruit carefully and individually, without dropping, throwing or tipping. Allow fruit to cool and sweat in a cool airy place overnight before storing.
Use a dark, cool and slightly moist store where it is possible to keep an even temperature and fairly constant humidity as this will prevent shrivelling and keep down disease. A temperature of 35–40°F/1–4°C is suitable for apples and slightly higher for pears. A shed, cellar or any outbuilding can be used, preferably with an earth, brick or concrete floor, and with good ventilation, and the store should be as dark as possible. It is most important that the store should be protected from rats or mice.
Keep special fruit wrapped separately in oiled papers, tissue or newspaper, as this will slow down ripening and prevent the spread of disease. Examine occasionally and throw away fruit which has spoiled. Pears ripen very quickly and soon spoil. If the store is not dark, cover with straw or sheets of paper.
The best storage for fruit is in single layers in trays, racks or boxes, or on the floor. Boxes may be packed one above the other if air circulates freely, and it is worth saving wooden boxes in which tomatoes and soft fruit are often packed as these have projecting corners for easy stacking.
Small fruit which will be mainly used for cooking can be stacked in layers with straw between (or individually wrapped), but the stack should only be 2ft/60cm high.
If a store becomes too warm when the weather is mild, ventilate it at night, but not when there is risk of frost. An upstairs room or other dry place is not suitable for storage as fruit quickly shrivels. If there is no covered space, boxes may be stacked in the open, raised on bricks or boards above ground level to prevent the entry of damp, and with adequate ventilation. Wire netting may be necessary to protect fruit from mice, and a good covering of straw should be used to protect from frost or rain. This method is really only for short-term storage, and pears should not be stored outside.
© 1978 Mary Norwak estate. All rights reserved.