Appears in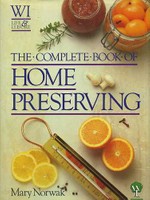 Coat the shells thoroughly and store pointed end downwards in a bowl or basket. For this method great care must be taken to cover the shells completely.
(i) Grease with white vaseline, lard or butter. Roll the eggs carefully in the fat in the palm of the hands. Store in bran if possible.
(ii) Cream 6oz/150g borax and 8oz/225g lard together. Coat by hand with this mixture and store in a bowl or basket.
© 1978 Mary Norwak estate. All rights reserved.