Appears in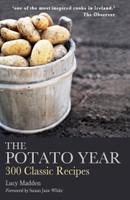 There are two main schools of potato eaters; those who prefer the waxy variety and those who prefer the floury kind. The latter group predominates, particularly in Ireland.
In potato cookery both schools are accommodated. Floury potatoes are best for baking, mashing and chipping, while the waxy varieties are more suitable for sautéing and salads. Which kind you prefer for boiling and steaming is a matter for personal preference and to some extent, nationality. Only in Ireland have I met the bursting, dry mouthful of perfection that is the Kerr's Pink or Golden Wonder. The English prefer their potatoes wetter and waxier. This soapiness is disdained in Ireland.
It is the dry matter that is the key to taste and quality in potatoes. Research reveals that Golden Wonder has the highest dry matter content and Cara the lowest. For Vitamin C, Kerr's Pink has the highest mean and Record and Pentland Dell the lowest. For 'flouriness' Golden Wonder and Kerr's Pink are best, with Cara found to be the 'soapiest'.
But 'horses for courses' and every potato variety will have its devotee. Even the 'I'm a meat and potato man' will have his own particular favourite. Potato buyers are becoming very discerning. At a large supermarket in Dublin recently I found thirteen different varieties on sale. The days are past when greengrocers asked 'Reds or Whites?' and one was given a bagful of earth that hid all sorts of unpleasantness.
If you are going to grow potatoes, buy fresh, certified seed potatoes every year rather than saving them from last year's crop, a practice which increases the risk of virus disease. Buying unusual seed varieties is becoming easier and if unusual varieties are what you want, you may have to grow them for yourself because unfortunately some of the 'connoisseur' kinds are commercially not viable – the curvaceous and excellent Pink Fir Apple, for example, is difficult to harvest because of its small knobbly shape and is susceptible to disease. Potato growing, however, is a joy and nothing compares to the pleasure of pushing back the earth in early summer to reveal the little waiting tubers. More than this, though, it is vital that the home growers help to keep alive the old and more exotic varieties that the commercial growers can't – or won't – produce.
It is not given to many people in this world to be able to go to the garden when potatoes are needed. Most of us must depend on what is supplied locally, and what is supplied locally will largely depend on demand, so by demanding different kinds the news will filter back to the growers. Ask for organically grown potatoes to experience the full flavour of each variety.
There are just a few rules to remember with potatoes. Don't refrigerate them, they become sweet. Since the nutrients lie under the skin, only peel if necessary. Peeled potatoes turn brown through oxygenation, so cook them at once or keep them for a few hours, if necessary, in cold water. Potatoes should be clean and free of disease and never greened by exposure to the light. Do not eat green potatoes. Buy new potatoes in very small quantities since they don't store well. Don't keep cooked potatoes for re-use longer than 24 hours.
I prefer to steam potatoes rather than boil them, although this means sacrificing the potato water which can be used for stocks and sauces. When cooking potatoes for puréeing, I cut them into small, even-sized pieces, which speeds up the process and ensures that the potatoes cook evenly. The recipes in this book do not mention which variety is most suitable to which dish because often those varieties are not available. When a recipe calls for a new potato, I have said so. 'New' potatoes are not necessarily special varieties as all types of potato can be bought as 'new' early enough in their season. Potatoes divide into 'earlies' and 'maincrop'; here is a list of some of the better-known types of potato available in Ireland and the uses to which they can be put.
© 2015 All rights reserved. Published by Mercier Press.