Combine the table salt, white pepper, and sugar. Season the foie gras evenly with this mixture.
Sprinkle with Cognac. Cover the dish containing the foie gras in plastic wrap and refrigerate overnight.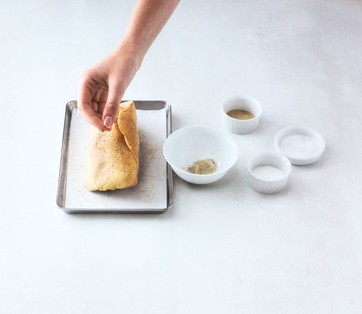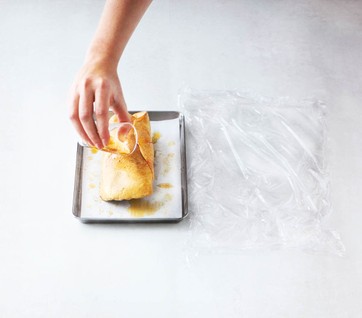 Remove the foie gras from the refrigerator 1 hour before cooking to bring it to room temperature. Heat the duck fat to 175°F (80°C). Immerse the foie gras with the domed side of the liver turned toward the bottom of the pan and cook for 15 minutes at 160°F (70°C).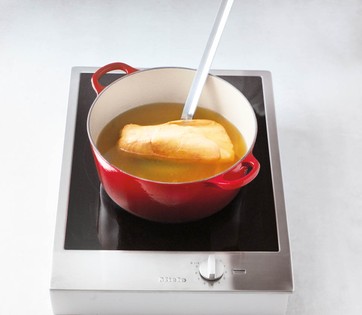 Don't skimp on your choice of raw duck foie gras: It should be firm to the touch and without red spots.
Start cooking at 175°F (80°C). When the foie gras is added to the hot fat the temperature will decrease to 160°F (70°C).
Turn the foie gras and cook for another 15 minutes at 160°F (70°C). The heart of the foie gras should reach 105°F (40°C): Use a thermometer to verify the temperature.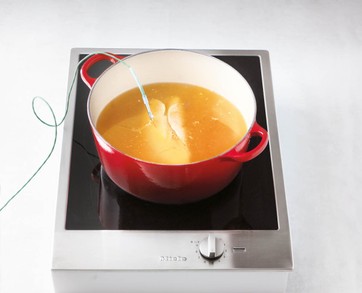 Place the foie gras on a rack. Cover with plastic wrap and cool for about 2 hours. Set the duck fat aside* at room temperature.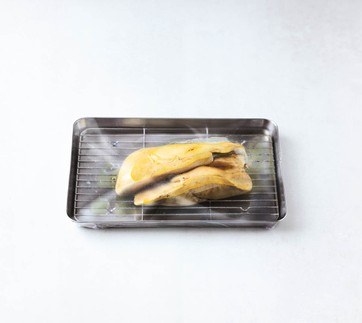 In the absence of Cognac, you can use port, or Madeira wine, or Armagnac.
Place the cooled foie gras on plastic wrap. Wrap and tighten lightly to give the foie gras an attractive shape. Prick the plastic wrap with a needle to remove any air bubbles. Put the wrapped foie gras into a terrine.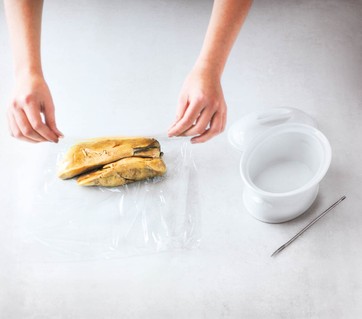 Cover it with the cooled duck fat and store the terrine in the refrigerator for at least 20 days.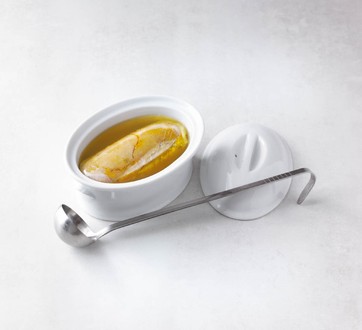 Duck fat can be purchased separately, ready for use. Above all, do not throw away the cold fat from the foie gras! It is perfect for sautéing potatoes, mushrooms, or steaks.
Unmold the foie gras. Place the terrine in a basin of hot water to the three-quarter mark, then slide a warm knife blade around the inside walls of the terrine to loosen the hardened fat. Carefully ease the cold fat away using the knife, being careful not to damage the foie gras.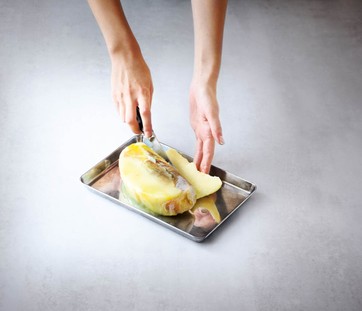 Warm the knife blade in hot water and cut the foie gras into slices ¾-inch (1.5-cm) thick. Sprinkle with fleur de sel and coarsely ground black pepper. Serve with toasted country-style bread and fig halves.
With this method of preparation, you do not have to devein the foie gras. The 20 days of refrigerated conservation in the duck fat will "dissolve" the veins.
Foie gras is best when served at 55°F (12°C).