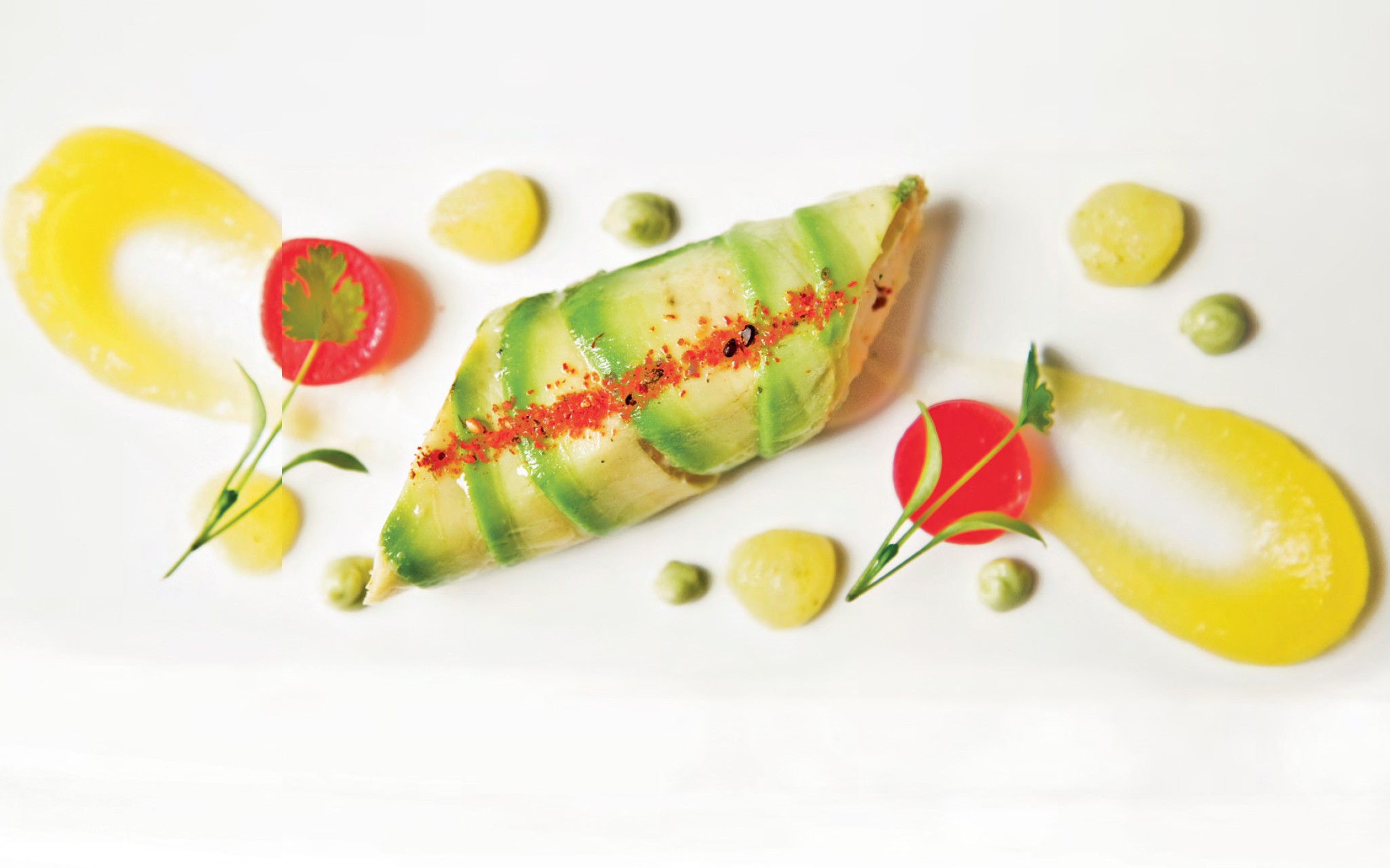 Appears in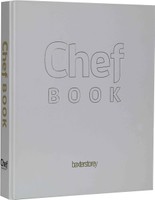 Ingredients
Court Bouillon
2 carrots
White of 1 leek
½ stick celery
½ fennel
4 shallots
2 tbsp white wine vinegar
325 ml white wine
1 litre water
25 g coarse salt
1 clove garlic
1 tsp peppercorns
Sour Apple Purée
1 kg cooking apples
3 limes, zested and juiced
½ bottle white wine
Lobster Roe Oil
2 tbsp fresh lobster roe, still in sac
60 ml peanut oil
Avocado Roulade with Crab and Coriander
700 g crab meat
5 Hass avocados, peeled and diced
5 Granny Smith apples, peeled and diced
1 tbsp tarragon, chopped
1 tbsp mayonnaise
1 tbsp crème fraiche
1 tbsp Greek yoghurt
2 limes, juice and zest
Salt, as needed
Cayenne pepper, as needed
Coriander cress, to garnish
Avocado Roil
5 avocados
20 ml lemon oil
Lemon juice, as needed
Breakfast Radish
2 bunches breakfast radish
Olive oil, as needed
Salt, as needed
Lemon juice, as needed
Method
Court Bouillon
Prepare and cut all the vegetables as for a mirepoix and cut the garlic in half.
Combine all the ingredients except the peppercorns in a large pan. Bring to the boil and simmer for 20 minutes.
After 15 minutes add peppercorns. Cook for a further 15 minutes then strain
Discard the vegetables.
Sour Apple Purée
Peel, quarter and core the apples.
Combine the zest and juice of the limes with the wine.
Add the apples and sous vide.
Poach the apples in a water bath set at 68°C until tender.
Once tender drain the apple and purée in a food processer.
Lobster Roe Oil
Blanch the fresh sacs in simmering water for 1 minute, until soft and red.
Refresh in iced water, when cold remove and pat dry.
Open the roe sac and rub through a large strainer.
Place the eggs in a small bowl and cover with the peanut oil.
Refrigerate.
Avocado Roulade with Crab and Coriander
Combine the crab meat with the diced avocado, apple and tarragon.
In a separate bowl mix together the mayonnaise, crème fraiche, Greek yoghurt and lime juice and zest.
Fold the mayo mix into the crab with a plastic spatula.
Season with salt and cayenne pepper.
Avocado Roll
Cut the avocados in half peel and remove the stone.
On a mandolin, slice the avocados and place on a vacuum pack bag cut in half.
Overlap the slices of avocado and drizzle with lemon oil and lemon juice and place in the fridge.
Breakfast Radish
Top and tail the breakfast radish and cut into ½cm round.
Place in a vacuum pack bag with lemon juice, olive oil and salt and seal tightly.
Place in the water bath for 15 minutes at 65°C.
Chill and reserve for service.
To Serve
Place two dots of the apple purée on the plate and pull the dots across. Place a roulade in the centre of the plate and place two radishes on the plate, as pictured.
Garnish with coriander cress. Spoon a few drops of lobster roe oil and lemon oil around the plate to finish.
Chef Magazine / Issue 25 / March / 2012
© 2015 All rights reserved. Published by Chef Media.