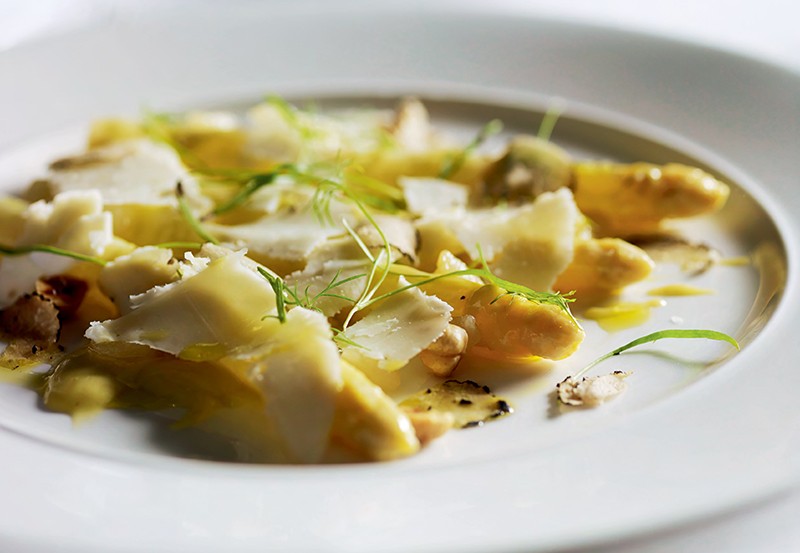 Appears in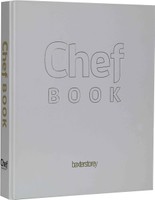 Ingredients
20 cooked spears medium white asparagus
1 poached Comice pear
6 tbsp hazelnut dressing
50 g toasted whole hazelnuts
30 g summer truffle
100 g Tomme de Corse cheese
24 sprigs fennel shoots
Salt and pepper
Asparagus
20 spears medium, white asparagus
8 tbsp plain flour
1.2 litres of cold water
6 litres water
150 g Table salt
Poaching Liquor
2 star anise
2 cloves
3 litres of water
300 g caster sugar
½ cinammon stick
400 ml white wine vinegar
100 ml white wine
Hazelnut Dressing
120 g Dijon mustard
25 ml chardonnay vinegar
60 ml iced wine vinegar
500 ml hazelnut oil
Salt and pepper
2 tbsp pear purée
Method
Asparagus
Boil the 6 litres of water and add the table salt.
Make a paste with the other flour and water and then whisk ito the boiling liquid.
Peel the asparagus then boil in the water till just done (6-7minutes).
Refresh and then keep to one side.
Poached Pears
Place all the poaching liquor ingredients together and bring to the boil.
Place the peeled whole comice pear inside and poach for 10-12 minutes.
Remove from heat and leave to cool inside the liquor.
Hazelnut Dressing
Place the mustard, vinegar, seasoning, pear purée and iced wine into the blender.
Gradually add the oil until emulsified and a thick vinaigrette has formed.
Place in a bowl over ice until later.
To Serve
Season the asparagus with malden salt and pepper and place flat on the plates.
Drizzle some dressing over and around the asparagus.
Spoon some diced pear and toasted hazelnuts over the asparagus.
Finally top with summer truffle slices, Tomme de Corse shavings and fennel shoots.
Chef Magazine / Issue 36 / July / 2014
© 2015 All rights reserved. Published by Chef Media.