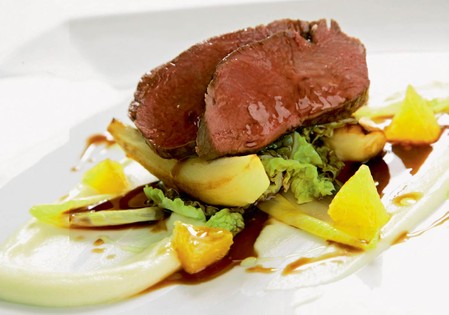 Appears in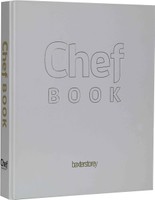 Ingredients
Venison
4 × 200 g portions of venison saddle, trimmed of fat and sinew
Orange oil
spice - cinnamon, black pepper, clove, juniper all ground and mixed in equal quantities
Method
Venison
Heat your water bath to 65°C. Place the venison in a sous vide bag with a little orange oil and spice.
Cook for 18 minutes. Remove from the bag and rest for 2 minutes. Heat a frying pan and colour all over for 1 minute.
Chicory
Bring all the ingredients to simmer except the chicory leaves. Place the chicory leaves into a container and cover them with the pickling liquor.
Submerge using some cling film. Allow cooling. To serve, place the leaves onto a tray and heat for 1 minute in an oven at 200°C.
Parsnips for Roasting
Simmer the parsnips in salted water for 4 minutes. Remove from the water and allow to cool.
Heat a non-stick pan and add the oil. Place the parsnips in the pan and colour all over. Add the butter and allow to cook for 2 more minutes. Drain and serve.
Parsnip Purèe
Heat a pan with a fitting lid; add the oil and butter and heat. When the butter is hot add the trimmings and cook for 2 minutes with no colour.
Add some water to cover the parsnip and cover with the lid. Cook for 5 minutes and stir, adding water if necessary. When the parsnip is cooked remove the lid and cook allowing the water to reduce until the excess water has gone.
Transfer to a blender and blend until smooth. Season with salt and pass through a sieve.
Espresso Sauce
In a pan heat the sugar to a caramel. Deglaze with the vinegar and reduce. Add the red wine and reduce and then finally the stock and reduce to correct consistency.
When serving add a dash of espresso to taste.