Appears in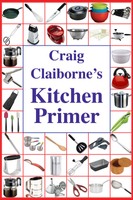 Ingredients
3 tablespoons wine vinegar
¾ cup olive oil
½ cup chopped parsley
1 tablespoon capers, chopped and drained
1 teaspoon finely chopped onion
1 teaspoon finely chopped sour pickle
Salt and freshly ground black pepper to taste
1 hard-cooked egg, chopped
Method
Combine all the ingredients and beat with a fork until well blended.

Heat sauce to lukewarm to serve with hot boiled beef. The sauce may be served cold with cold shrimp or crab meat.
A basic sauce made with tomatoes is one of the most versatile in the entire range of cooking. Tomato sauce has a thousand different uses in the Italian repertory, and its uses on the local scene are seemingly without limit. It is good on any pasta such as spaghetti or linguine, with croquettes, and the tomato sauce that follows is particularly good with meat loaves.
The thing to remember about a tomato sauce is that the flavor of the tomatoes used in making it is all-important. If the tomatoes are succulent and full of flavor, the sauce is apt to be also. If canned tomatoes are to be used for this sauce, buy those marked "Italian peeled" or "Italian plum," for they are the best.
Many herbs, such as parsley, thyme, and tarragon, go well with tomatoes, but the one that complements tomatoes best is basil. Some brands of canned tomatoes are packed with basil.
Tomato paste is frequently called for in tomato sauces for two basic reasons: primarily because it gives body to a sauce and tends to thicken it, but also because it adds color. But the paste should be used with discretion because it is rather strong in flavor.
© 1969 Craig Claiborne estate. All rights reserved.