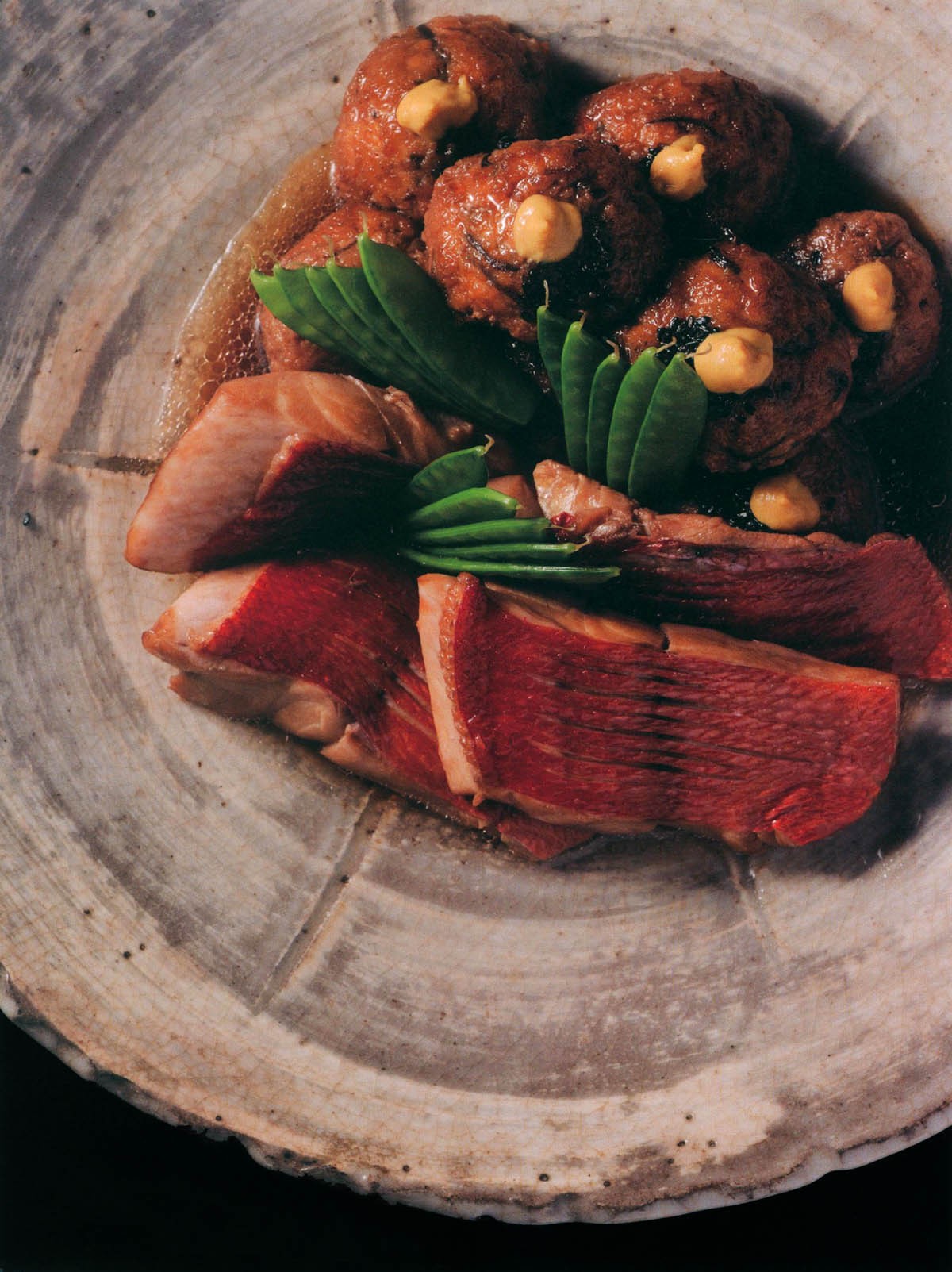 Ingredients
1 splendid alfonsino fish, 1.2 kg
250 g momen (regular cotton) tofu
150 g yamato-imo (small yam)
30 g burdock root
30 g carrots
5 g kikurage (Jew's ear) mushrooms
8 ginkgo nuts
40 g lily bulb, in pieces
20 mange tout
400 ml niban dashi
5 g pickled shisonomi (shiso buds)
30 g fine white sugar
45 ml light soy sauce
30 ml sake
Some Japanese karashi mustard, to taste cooking oil, for frying, as needed
Method
Drain the tofu and mash it well in a pestle and mortar. Grate the yam and then mix this with the tofu.
Shave the burdock sasagaki style. Slice the mushrooms and cut the carrot, into long matchsticks. Place the pickled shisonomi into water to get rid of excess salt then drain. Mix all of these ingredients together.
Divide the mixture from (2) into four equal parts and shape into round dumplings with the ginkgo nuts and lily root pieces stuffed inside. Slowly deep fry at 170°C until the balls are chestnut brown in colour. Then dip into boiling water to get rid of any excess oil. Remove and leave to one side.
Fillet the splendid alfonsino fish. Grill the head and backbone then add to the niban dashi. Strain the liquid, discard the fish head and bones, put the liquid into a fresh pan and then add the dumplings from (3). Season with light soy sauce and sugar so that the dumpling slowly absorb the liquid.
Cut the fish fillets into four equal parts. Score lines into the skin of each with a sharp knife and then briefly plunge into boiling water to soften the skin. Then cook them in a pan with the sake, sugar, soy sauce and dashi.
Meanwhile, blanch the mange tout in salted water until tender. Plunge into ice cold water.
Finally, remove the fish (5) and dumplings (4) from their stocks and arrange on the same serving plate with the mange tout (6). Dab some karashi mustard onto each dumpling and serve.