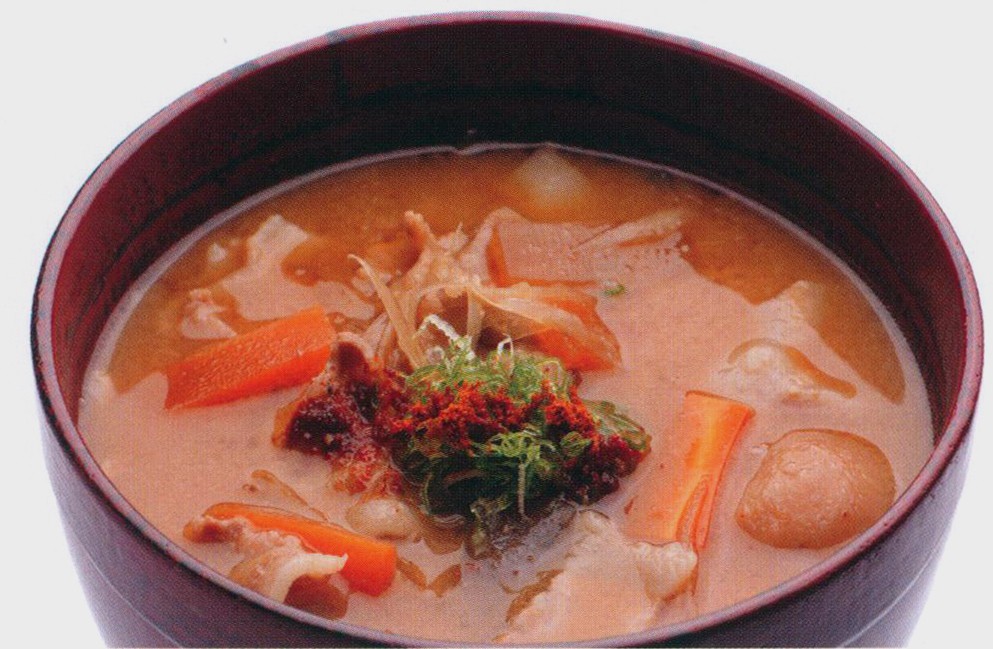 Ingredients
900 ml dashi
4 tbsp miso
200 g pork belly thinly sliced
8 fresh shiitake mushrooms
½ burdock root, peeled
⅓ carrot, peeled
⅛ daikon radish
8 satoimo (taro)
⅓ block konnyaku (devil's tongue)
Some spring onion
Some ichimi (Japanese chilli powder) or shichimi (seven-spice chilli mix)
Method
Cut the pork into 2 cm wide pieces. Remove the stalks from the mushrooms and cut into quarters. Cut the burdock root into sasagaki style and leave to soak in water. Cut the carrot, daikon and konnyaku into small pieces (3 cm x 1 cm). Parboil the konnyaku, drain and dry it off
Slice the spring onion into fine rings, immerse them in cold water and then remove using chopsticks.
Cover the satoimo with cling film and heat in a microwave for 20 seconds. Rub their skins off using a tea towel. Then place in the microwave again and heat for approximately 4 minutes or until soft.
Heat (1) in a pan with the dashi. Once boiled, turn to a low flame and simmer the vegetables until they are tender.
Add the miso and allow to dissolve. Simmer for a few seconds, then serve. Sprinkle on the spring onion and ichimi or shichimi as desired.