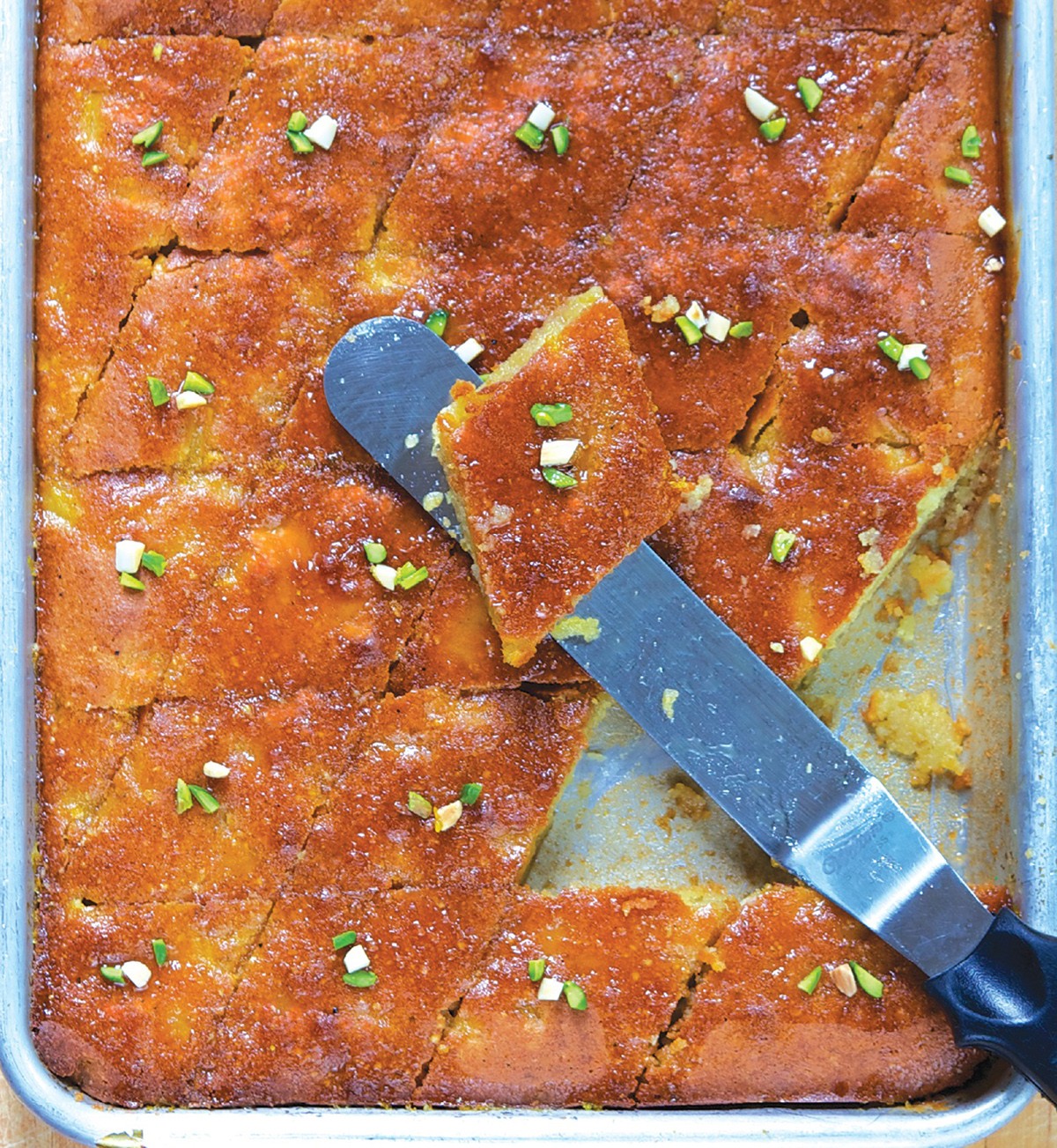 Preparation time: 20 minutes
Cooking time: 40 minutes
Ingredients
Glaze
1 cup (340 g) honey
¼ cup (60 ml) rose water
Zest of 1 orange
1 teaspoon orange blossom water
2 tablespoons fresh lime juice
Cake
3 eggs, separated (room temperature)
¼ cup (50 g) sugar
⅛ teaspoon salt
1 tablespoon cardamom powder
2 tablespoons rose water
½ cup (120 ml) milk or almond milk
½ cup (120 ml) oil
1 cup (100 g) unbleached (all-purpose) flour sifted with 2 teaspoons baking powder
1½ cups (125 g) ground almonds or pistachios
2 apples, peeled, cored, and diced into ¼-in/6mm cubes
Garnish
1 tablespoon raw pistachios
1 tablespoon blanched almonds
1 tablespoon dried rose petals
Method
In a small saucepan, combine all the ingredients for the glaze. Bring to a boil, reduce heat to medium, and stir gently for 3 minutes. Remove from heat and set aside.
Preheat the oven to 350°F (180°C). Butter a quarter-sized (9½ x 13 in/ 24 x 33 cm) rimmed sheet pan.
In a mixing bowl, whisk the egg yolks, sugar, and salt until creamy. Add the cardamom, rose water, milk, and oil, and whisk for 1 minute longer.
Add the flour, almonds, and apple, and fold in with a rubber spatula.
In a separate mixing bowl, whisk the egg whites until there are soft peaks. Fold into the flour mixture until you have a smooth, light batter.
Gently pour the batter into the lined, rimmed sheet pan and bake for 30 to 35 minutes until a tester comes out clean.
Remove the pan from the oven and place it on a cooling rack. Drizzle the glaze evenly over the hot cake and leave it in the pan until it has absorbed all the glaze. Allow the cake to cool completely.
Cut into diamond shapes, and decorate with pistachios, almonds, and rose petals. Nush-e Jan!