Appears in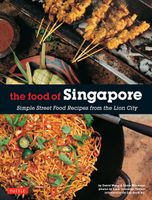 Ingredients
½ cup (50 g) peeled and thinly sliced carrot
½ cup (40
Method
Sprinkle the carrot, cucumber and radish with the salt. Cover with a plate and weigh down with a heavy bowl. Set aside for 20 minutes.
Grind the turmeric, ginger and garlic to a paste in a mortar or blender, adding a little oil if necessary to keep the blades turning.
Rinse the vegetables, drain and squeeze out as much moisture as possible.