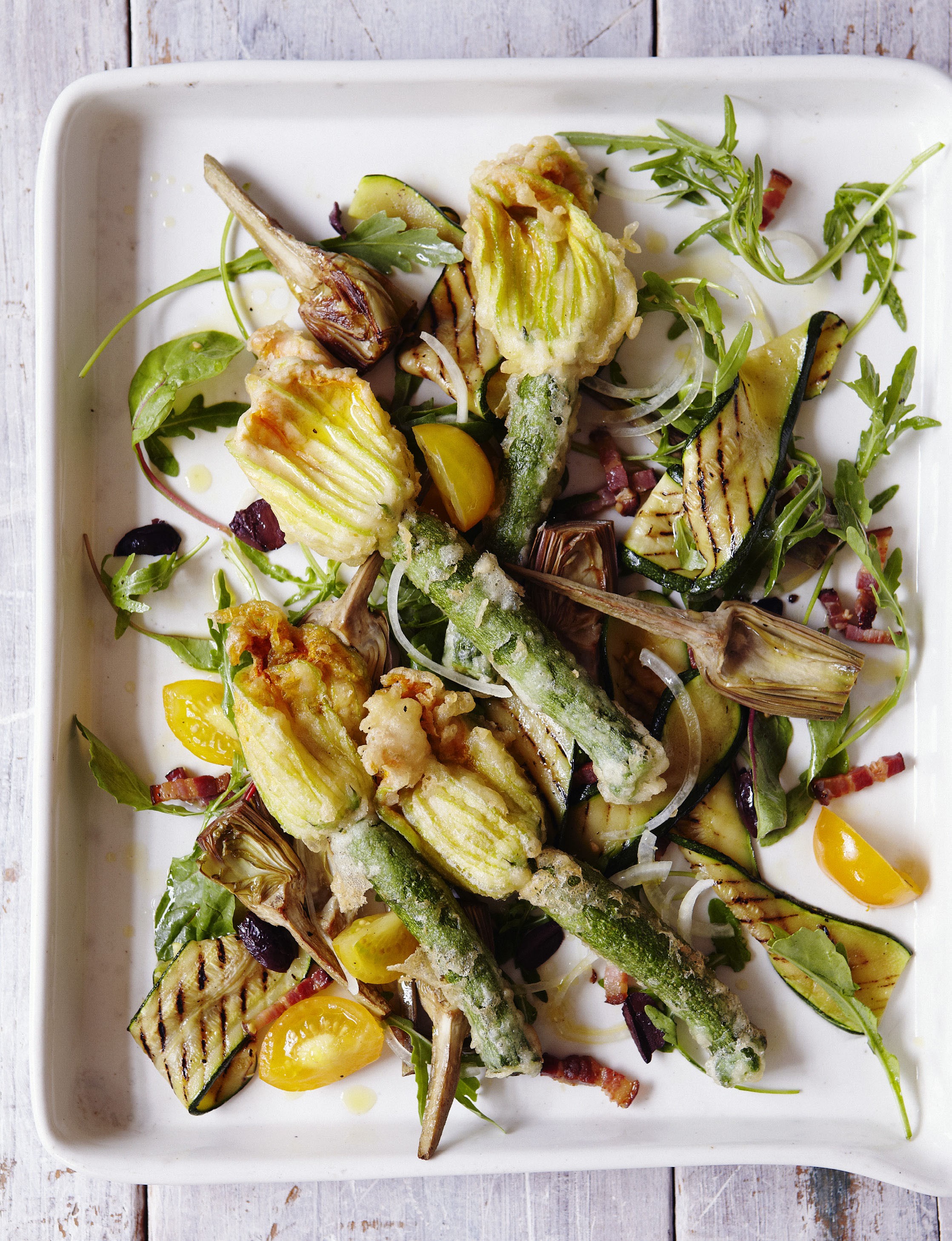 Appears in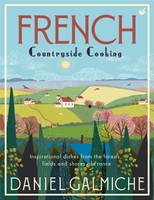 Ingredients
1 courgette (zucchini), cut lengthways into long, thin strips
2 tbsp olive oil
a pinch of edible lavender flowers
1 tbsp white balsamic vinegar
2 tbsp extra virgin olive oil
juice of ½ lemon
6 purple baby artichokes
2 thick slices of pancetta, about 40 g/1½ oz, cut into lardons
1 handful of rocket (arugula) leaves
1 handful of baby red chard leaves
½ white onion, finely sliced
6 yellow cherry tomatoes, halved
2 tbsp black olives, pitted and roughly chopped
sea salt and ground black pepper
For the Tempura
sunflower oil, for deep-frying
2 eggs
250 ml/9 fl oz/1 cup cold sparkling or still water
2 tbsp cornflour (corn starch)
160 g/5¾ oz/1¼ cups plain (all-purpose) flour
a pinch of salt
1 tsp lemon juice
8 courgette (zucchini) flowers with the small courgettes attached
Method
Mix the courgette (zucchini) with ½ teaspoon of the olive oil and half the lavender flowers, then season with salt and pepper. Cover with cling film (plastic wrap) and leave to marinate in the refrigerator for about 30 minutes. Whisk together the balsamic vinegar and extra virgin olive oil in a bowl until just combined, then season with a little salt and pepper. Leave to one side.
While the courgettes (zucchini) are marinating, prepare the artichokes. Fill a large bowl with water and stir in the lemon juice. Remove and discard the outer leaves from the first artichoke and cut off the top. Trim and peel the stalk, then cut the artichoke into quarters lengthways. Cut out and discard the choke (the 'furry' centre) and put the artichoke in the lemon water to stop it discolouring. Repeat with the other artichokes, then drain and pat dry.
Heat a large frying pan (skillet) over a medium heat. Add 1 tablespoon of the olive oil and the artichokes and cook for about 8–10 minutes, turning occasionally, until just tender. Transfer to a plate and leave to one side. Add the remaining olive oil and the lardons to the frying pan and fry for 3 minutes until golden brown and crisp. Drain on paper towel and leave to one side. Bottled artichokes don't need cooking.
Heat a ridged griddle pan over a high heat until very hot. Add the courgette (zucchini) slices and griddle for 10 seconds on each side until just coloured in places. Transfer to a plate and leave to one side.
To make the tempura, pour in enough sunflower oil to fill a deep-fat fryer or deep, wide saucepan by two-thirds. Heat to 170°C/325°F, or until a cube of bread browns in 40 seconds. While the oil is heating, prepare the batter. Beat together the eggs and water in a large bowl until foaming. Sift the cornflour (corn starch) and flour over the top and gently mix with a pair of chopsticks until just combined. It doesn't matter if the batter is slightly lumpy as it's important not to over-whisk it. Stir in the salt, lemon juice and a handful of ice cubes, cover with cling film (plastic wrap) and leave to rest in the refrigerator for 5 minutes. Dip the courgette (zucchini) flowers and courgettes, one at a time, into the batter, then lower them straight into the hot oil. Deep-fry for 2 minutes, then flip over and fry for a further 2 minutes until the batter is crisp but not coloured. Drain on paper towel and season with a pinch of salt.
Top the rocket (arugula) and chard with the artichokes, courgettes (zucchini), onion, tomatoes and olives. Drizzle the dressing over the salad and add the lardons. Toss to combine, then put the courgette flowers on top and serve immediately while the batter is still crisp.