Soak a cleaned capercaillie for 8–10 hours in vinegar boiled with spices. Lard the bird with ¼ lb pork fat and roast on a dripping pan, basting with 2 spoons butter. When the bird is almost done, pour on 2 spoons vinegar and turn it frequently. Baste the bird with the pan juices as they are released and, at the end, pour on sour cream. Cut up, arrange on a platter, and pour on the strained sauce. Serve with creamed beets, stewed potatoes, or fresh or marinated salad.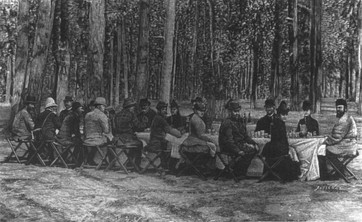 If the capercaillie will be served cold, omit the sour cream.
To tenderize the bird, some people bury it in good earth in the garden for 24 hours.