Take 3 lbs of any kind of fish, such as tench, pike, salmon, a large perch, or whitefish. Cut the fillets into slices the thickness of a finger. Arrange them on a dripping pan in 1 ½ spoons melted butter and add salt, 1 wineglass wine, and the juice of ½ lemon. As soon as the fillets turn white on one side, turn them over. Watch that the fish is not raw, but do not let it darken. Transfer the fish onto a round platter to cool.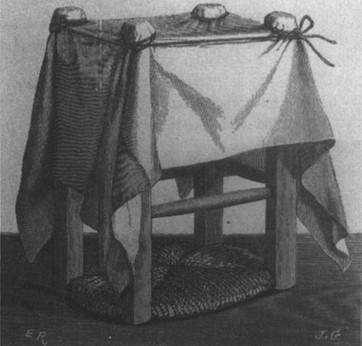 Prepare an aspic from the fish bones, scales, fish gelatin, and other small fish. Add root vegetables, spices, vinegar, and 5–6 field mushrooms. Clarify with 2–3 egg whites or caviar (cf. Remarks on fish aspics), reduce the mixture to 3½ glasses, strain through a napkin, and cool. Add ½ glass olive oil to the aspic and beat the mousse as indicated in the Remarks. Dip each piece of fish in this mousse and arrange the pieces on a platter in a circle. Surround with salad and fill the center with the following sauce:
Pit 10 olives and chop them with 10 anchovies, 10 cornichons, 1 spoon capers, and 10 hard-boiled egg yolks. Pound everything together in a mortar and rub through a fine sieve. Beat 2 raw egg yolks in a stoneware bowl with a teaspoon of prepared Sareptskaja mustard until they turn pale. Add olive oil drop by drop, 1 teaspoon vinegar, about 2 pieces fine sugar, some salt and spinach essence, and 1 spoon chopped greens, such as dill, chervil, and tarragon. Mix everything together.
[Prepare] the following salad: Slice green beans evenly and boil them in salted water until tender. When cooked, turn them into a colander, rinse with cold water, and set them on ice. In exactly the same manner boil asparagus, potatoes, and cauliflower. After they have been rinsed with cold water, mix them with the beans. Also add fresh peeled cucumbers, baked beets (all of these sliced or cut into pieces), parsley, dill, tarragon, and chervil. Season with 2–3 spoons vinegar, olive oil, salt, a little mustard, and sugar.