Fresh basil is a joyous herb which has a powerful smell but does not taste pungent Our newfound ability to buy basil most of the year round is a great bonus. Obviously it is cheaper in the summer, when it is not flown in from such great distances, but is still too expensive from most food markets and sold in rather mean portions. Basil is a great addition to most tomato dishes.
Basil leaves should always be tom rather than chopped, as they bruise and discolour very easily. Carefully stored still in the plastic bag in which it is generally sold, fresh basil will keep in the fridge for up to 3 days, but throw it away as soon as it starts to discolour. Old basil is foul basil, and will make you think of tom cats in a most unpleasant fashion.
One of the best ways of serving basil is in pesto - one of the great pasta sauces, made from basil, Parmesan and pine nuts pounded together. (Incidentally, pesto should always be served with dried rather than fresh pasta.) When making pesto, use only the freshest of basil and the best Parmesan cheese you can get hold of. Never, under any circumstances, use ready-grated Parmesan cheese bought in a packet or drum. One shudders to think what pesto made from old basil and packet ground Parmesan cheese would taste like.
Don't worry if you don't use all the pesto you make immediately: it is a very versatile sauce with many other uses. Try adding it to mashed potatoes to give them a different dimension, or bake some on half tomatoes in the oven with fresh breadcrumbs to make a light and delicious gratin.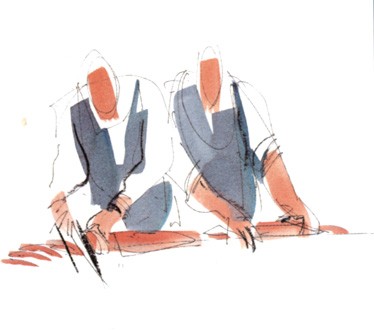 Pesto will also keep in a kilner jar in the fridge for at least one month without deterioration, provided the surface of the pesto is covered with a thin film of olive oil and the jar has been properly sterilized. (A dishwasher is sterilizer enough, though don't put the rubber ring in or it will stretch - wash it separately by hand). Also, pack the pesto down with the back of a clean metal spoon to make sure there are no air pockets.
Try the same technique using fresh mint leaves to replace the basil. This makes a fabulous sauce to accompany cold roast lamb or as a dressing for boiled new potatoes.