To make six to eight doughnuts, use the lightly sweetened dough for coffeecakes or the brioche dough.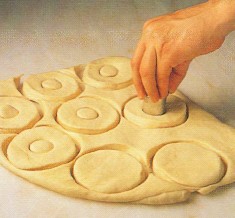 Roll out the dough to about 1 in/2.5 cm thickness and, with a cutter, stamp out 3 in/7.5 cm rounds. With a smaller cutter, stamp a round in the center of each one and discard it, leaving six to eight doughnut rings.
Transfer the prepared rings to a baking sheet or tray and leave them to rise, 20-30 minutes, until doubled in bulk.

Heat a pan of fat for deep-frying to 360°F/180°C. Gently lower the doughnuts into the fat, cooking just a few at a time.

Fry the doughnuts until browned on one side, then turn and brown them on the other side, 3-4 minutes.

Lift the doughnuts out of the pan and drain them on absorbent paper towels. Sprinkle the doughnuts with confectioners' sugar for serving.