Appears in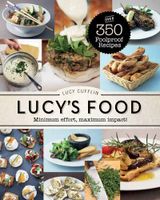 Ingredients
1 very large aubergine
2 cloves garlic
1 tablespoon fresh lemon juice
4 tablespoons olive oil
8–10 sprigs flat leaf parsley or coriander, chopped
fennel and chilli salt
Method
Prick the aubergine and put into the oven whole to bake for 30 minutes or until it is soft inside.
Meanwhile, chop the garlic and work to a paste with some salt using the flat of a knife.
Put the roast aubergine, lemon juice and garlic paste into the processor and blend, drizzling in the olive oil, until you have a rough dip. Add the chopped parsley or coriander and season well with fennel and chilli salt.