Place the flours, salt, and yeast (if using) in a food processor. Pulse a few times to mix.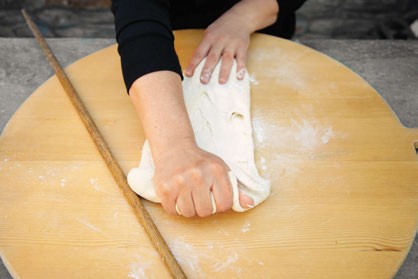 With the motor running, add the vinegar and olive oil, then add ⅔ cup (160 ml) water, or just enough to make a soft dough. Let the dough rest in the processor for 15 minutes. Process the dough for 3 to 5 minutes longer, until it is smooth and elastic. Remove and let rest, covered, for 10 to 20 minutes.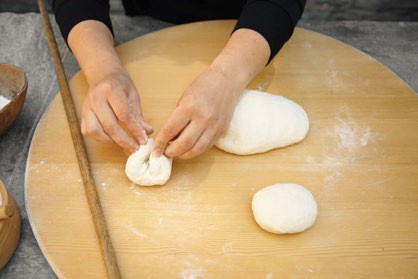 On a lightly floured surface, knead the dough briefly until it is smooth and very elastic, adding a little more flour if it is sticky. Divide the dough into 6 pieces. Cover 5 of them with plastic wrap.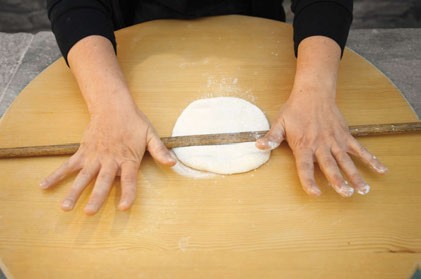 Begin with one piece of dough, flattening it with the palm of your hand and the rolling pin. Roll the dough as thinly as possible with restraint, just a few rolls of the pin back and forth. Dust with cornstarch and turn the dough 90 degrees clockwise. Continue to roll the pin over the dough. Use the heels of your palms on the pin to press and pull the dough as you roll forward and back.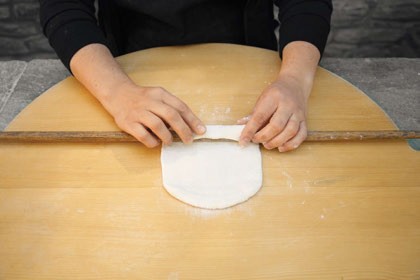 Rotate the dough clockwise slightly, about 30 degrees.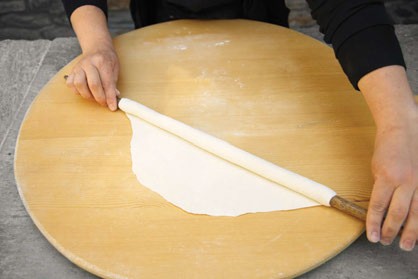 Dust again with cornstarch and, using your fingertips, roll the edge of the dough closest to you over the rolling pin. This will allow you to "pick up" the dough with the pin. Roll the pin away from you so that the dough forms a log, wrapped around the pin. Roll the pin gently back and forth, with a continuous rocking motion, extending the heels of your palm out along the dough. You are stretching out the dough on the rolling pin.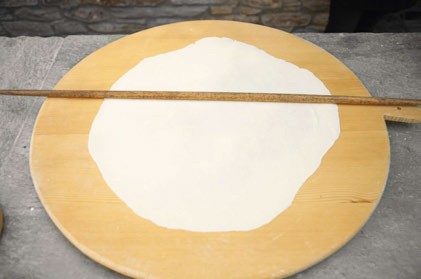 You should roll the pin back and forth roughly four times. With the dough on the pin, pick up the pin with your hands on either side of the dough. Extend your arms and turn the pin 45 degrees clockwise. Put the pin down on the surface and unroll the dough, pulling slightly on the pin to help extend the dough. This small 45-degree turn helps you rotate the dough to open it evenly.
Pick up the dough with the pin again and repeat the same process, dusting with cornstarch, rolling back and forth, extending the pin away, and pulling the dough back toward you. The dough will start to open as an imperfect circle. Make sure you rotate the dough as you roll so you are always picking it up in a different spot. This helps the dough open as easily and evenly as possible.
You need to make a 16-inch (40-cm) round, thin sheet. It doesn't need to be a perfect circle. By gently stretching the sheet you can form an oval; for a square or rectangular pan, the soft and resilient dough can be carefully stretched to fit. Repeat with the remaining pieces of dough.