Preparation info
Makes about

600 g

uncooked chilli paste
Appears in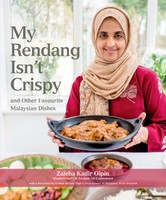 Ingredients
150 g (5⅓ oz) dried chillies
2 tsp salt
To Cook the Chilli Paste
125 ml (4 fl oz / ½ cup) vegetable oil (optional)
125 ml (4 fl oz / ½ cup) water (optional)
Method
Cut the chillies lengthwise and remove the seeds. Place in a pot of water and boil until soft. Drain and rinse well, then place in a food processor with the salt and blend to a smooth purée without adding any water. Store in an airtight container. This dried chilli paste will keep for up to a few days in the refrigerator or several months in the freezer.
Sometimes I go a step further by cooking the paste. To do this, heat the oil in a heavy-bottom pan over medium heat and add the blended chilli. Rinse the food processor with the water and add it to the pan. Bring to a boil, then turn down the heat and let it simmer for 30–45 minutes or until the oil separates.
Turn off the heat and let it cool completely before transferring to airtight containers. Store in the freezer for use as needed. By cooking the paste, you can reduce your sambal cooking time considerably!