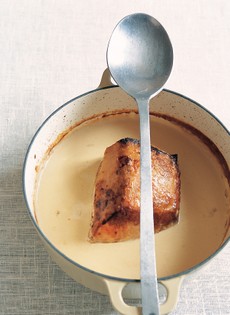 Ingredients
Pork loin roast 1 kg
French shallots 2
Garlic 2 cloves
Veal stock 300 ml
White port 150 ml
Pouring cream 300 ml
Dijon mustard 3 tablespoons
Butter 50 g
Salt, pepper
Method
Peel and chop the shallots and garlic.
In a heavy pan, brown the loin on all sides in butter. Add the shallots and garlic. Deglaze with the port, cover and cook over a low heat for 30 minutes. Add the veal stock, cook for a further 30 minutes, then add the cream. Cook for another 30 minutes and season.
Just before serving, add the Dijon mustard.