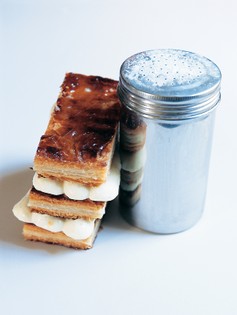 Method
Roll the pastry out into three identical rectangles and dust them with icing sugar. Cover the rectangles with a sheet of baking paper. Bake between two racks 2 cm apart in a 180°C oven for 20 minutes (the pastry sheets must brown well).
Heat the vanilla pastry cream to lukewarm. Add the gelatine, previously soaked in cold water. Mix well and then allow to cool. Mix this together with the Chantilly cream and spoon into a piping bag.
Pipe the prepared vanilla cream on two of the three rectangles, stack them on top of each other and dust again with icing sugar.