Appears in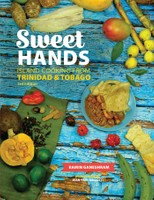 Ingredients
1 teaspoon canola oil
½ small onion, finely chopped
1 teaspoon butter
2 cloves garlic, finely chopped
¼ green Scotch bonnet pepper or other hot chili pepper, finely chopped
8 large eggs, beaten
Method
Heat the canola oil in a medium saute pan and add the onion. When the onion is translucent, add the butter and stir well until butter melts.
Lower heat to medium-low and add the garlic and chili pepper and fry until garlic is golden brown.
Add the beaten eggs and allow to cook 1 minute or until the edges begin to set. Using a spatula, gently push in the edges of the eggs toward the middle of the pan and swirl the uncooked eggs onto the pan surface and cook 1 minute more. Flip the omelet (it's ok if the it breaks into pieces when flipping) and continue to cook another minute or two. Serve with Sadha Roti.