Appears in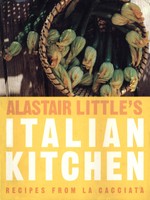 Bietole is the Italian word for the green leaf of Swiss chard. Spinach is generally unavailable in Orvieto in spring and summer, so this is used in its place. It has a similar taste, but a rather more robust texture, and is normally used in ravioli stuffings, crespelle and gnocchi.
It arrives with large white stalks, which are trimmed off and put on the compost heap. I know there are numerous recipes for these stalks, but I have tried most of them and come to the conclusion that it is cheaper to bin them raw. Their taste when prepared and cooked redefines the word 'uninteresting'.
Choose leaves that are not too pockmarked, and try to get a good ratio of leaf to stem. Wash well.
© 1996 Alastair Little. All rights reserved.