Appears in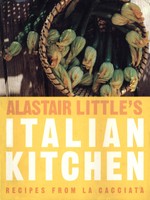 These hearty dishes are found throughout Italy in numerous mutations. Basically they all have two things in common: pulses, be they cannellini, borlotti, fave or chick peas, and pasta cooked with them. To further confuse matters, there is a whole tribe of related dishes involving lentils and potatoes. Dietetically speaking, the combination of starch, protein and fibre in these dishes is wonderful.
Here I give a general all-purpose Pasta Fagioli using tinned beans, a general recipe for cooking pulses, a recipe for Pasta e Ceci (chickpeas, and Signor Belcapo's favourite), Pasta e Lenticche (lentils), and a curious but highly delicious Ligurian speciality, Pasta e Patate.
© 1996 Alastair Little. All rights reserved.