Appears in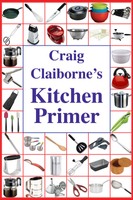 Along with sharp knives, chopping blocks, and mixing bowls, there is an item that I rank as essential: this is the kitchen apron. It is a safeguard against a multitude of nuisances, including water sprays and spattering fats, and no professional chef would work without one.
The best aprons are those that hang around the neck or, for the ladies, perhaps smocks. The things with frills called hostess aprons are strictly for show, and if you want to wear one of those gimmicky items printed all over with coy phrases like "Chief Cook" that's all right, too, as long as it covers you.
© 1969 Craig Claiborne estate. All rights reserved.