Appears in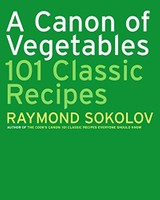 Ingredients
1 pound asparagus, prepared in the manner of Madame Saint-Ange
8 tablespoons (1 stick) butter
2 cups Arborio or other medium-grain rice
¼ cup freshly grated Parmesan cheese
Salt and pepper
Method
Remove the asparagus from the cooking water (but RESERVE the water) and cut into inch-long pieces. Discard the woody ends, but peel any sections whose interior flesh is edible. Reserve the spears.
Measure the cooking water. Top up to 5 cups with additional water if necessary and return to the boil. Reduce the heat and simmer slowly.
In a heavy 10-cup pot, melt 6 tablespoons of the butter over medium-high heat. When the foaming subsides, add the asparagus pieces and any pith you have salvaged (but not the spears). Stir-fry for 2 minutes. Then pour in all the rice and stir vigorously to coat each grain. Continue stirring briefly. The grains will turn opaque. Then pour in a cup of the asparagus cooking water. Stir until the liquid almost disappears. Then add another cup of water. Continue in this manner until the rice softens to the al dente point. If you run out of water, bring another cup or two to the boil.
As the water-absorption process comes to a close, melt the remaining 2 tablespoons butter in a small skillet. Toss the asparagus spears in the butter to warm them up. Set them aside on a warm plate. Pour the butter into the rice. Add the cheese and salt and pepper to taste and stir vigorously while the cheese melts. Transfer to a serving bowl. Arrange the asparagus spears over the rice and serve immediately.