Appears in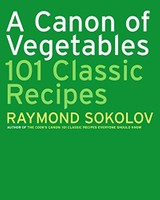 Ingredients
1 pound broccoli
4 tablespoons butter
3 cups chicken stock
½ cup heavy cream
Salt
Method
Cut off the tips of the broccoli stalks and discard. Then cut the stalks from the flowerets. Set aside a handful of the flowerets. Peel the stalks with a vegetable peeler and then slice the stalks into ¼-inch rounds.
Melt the butter in a medium skillet over medium heat. When the foam subsides, stir in the sliced stalks, cover, and let simmer until the stalk slices have softened. Add the flowerets (except the reserved handful) and sauté, uncovered, with the stalks until they have softened.
Process the cooked broccoli. Then force the puree through a food mill or other medium strainer into a clean saucepan. Stir in the chicken stock and the heavy cream, and salt to taste. Serve chilled or hot. Either way, toss in the reserved flowerets at the last minute.