Appears in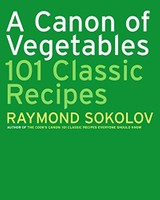 Ingredients
Salt
½ pound celeriac
2 pounds potatoes
4 garlic cloves, peeled and finely chopped
6 tablespoons room-temperature butter, sliced
White pepper
Method
Boil 3 quarts of water and ¼ cup salt in a Dutch oven or couscousière.
Peel and dice the celeriac. Add to the boiling water and simmer for 20 minutes.
Peel and quarter the potatoes. Add them to the water along with the garlic, and simmer for another 10 minutes, or until the potato pieces are soft.
Drain in a colander. Transfer to a large mixing bowl and mash thoroughly. Do not use a food processor because it will turn the puree into library paste. A hand masher or a potato ricer will speed the job.
Put the puree in a saucepan. Set over medium heat and stir while excess moisture steams away. When the puree begins to coat the spoon and the sides of the pan, remove from the heat and stir in the butter to smooth it. Season to taste with salt and white pepper.