Appears in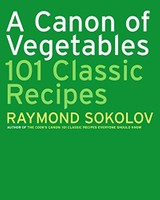 Ingredients
2 pounds watercress
4 tablespoons butter
2 large potatoes, peeled and cut into eighths
3 cups water
Salt
2½ cups milk
2 cups heavy cream
3 egg yolks, lightly beaten
10 chervil sprigs
Method
Rinse the watercress. Trim away the root ends, including the filamentous white parts. Reserve three dozen leaves in cold water. Rinse the remaining watercress a second time.
Melt the butter in a 6-cup saucepan. When the foam subsides, stir in the watercress. Lower the heat, cover, and stew for 10 to 15 minutes, until the cress has completely lost its turgor. Add the water, salt to taste, and the potatoes. Bring to a boil, cover, and simmer briskly for around 20 minutes, or until the potatoes give way when nudged.
Force through a food mill into a clean saucepan. Add the milk and bring to a boil. Lower the heat to low, add the reserved cress leaves (roughly chopped, if you like, to release their flavor), and simmer another 5 minutes.
Just before serving, whisk in the cream and the egg yolks off heat. Sprinkle with the chervil.