Appears in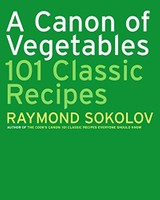 Ingredients
8 sweet potatoes
Butter for greasing a 12-cup baking dish
⅓ to ½ cup light Karo syrup
3 tablespoons butter
8 marshmallows (optional)
Method
Bring 4 quarts of water to a boil in a large pot. Put in the sweet potatoes and simmer until just soft enough so that a fork will penetrate them without serious effort. Drain, cool under running water, peel, and cut into ½-inch rounds. Preheat the oven to 375 degrees.
Grease the baking dish. Arrange the sweet potato rounds in overlapping rows. Pour the Karo syrup over them. Dot with the 3 tablespoons butter.
Bake for 10 minutes and then arrange the marshmallows on top, if you are using them. Bake another 10 minutes, or until the sweet potatoes have darkened and the marshmallows have collapsed and browned nicely.