Appears in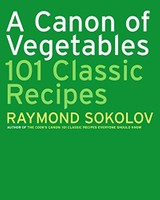 Ingredients
One 4½-pound duck
1 pound white turnips, peeled and cut in the shape of olives
2 cups chicken stock
2 tablespoons salt pork, finely chopped, or lacking that, lard or butter
2 tablespoons flour
Pepper
A bouquet garni (1 bay leaf, 1 thyme sprig, and 1 celery sprig, tied together)
2 tablespoons butter
Method
Take a high-sided pot just large enough to hold the duck, the turnips, and the stock so that the stock covers the turnips. Drain the duck and the turnips, and reserve the stock.
Melt the chopped salt pork (or lard or butter) in the pot. Add the duck and cook over low-medium heat for about 20 minutes, turning the duck from time to time, while it turns a rich golden brown, the color of a roast duck. Remove the duck to a plate.
Whisk the flour into the cooking fat from the duck. Lower the heat a bit and continue whisking until the flour turns a light brown. Then whisk in the stock. Season lightly with pepper. Bring to a boil, reduce the heat to a slow simmer, and cook for 12 minutes, skimming off the fat that rises. Strain the sauce through a chinois or other fine strainer to remove any burned solids.
Preheat the oven to 375 degrees.
Rinse out the cooking pot and pour in the strained liquid. Bring to a full boil and then, immediately afterward, place the duck carefully in the liquid, along with any juices that may have collected while it waited. Add the bouquet garni. Cover with a piece of buttered wax paper. Then cover with a lid and place in the oven.
Cook for 25 minutes. Check to make sure the liquid boils gently. Adjust the oven heat if necessary.
While the duck is in the oven, bring 3 quarts of lightly salted water to a full boil. Add the turnips and blanch for 10 minutes. Run under cold water, drain, and pat dry.
Melt the butter in a skillet and whisk briefly until melted. Add the turnips and sauté until they are nicely colored.
After the duck has cooked for 25 minutes in the oven, add the turnips to the pot. Cover again with the wax paper and the lid. Return to the oven and cook for another 35 minutes.
Remove the pot from the oven. Take out the duck, being careful to pour back any liquid from the cavity into the pot. Place the duck on a round, flat serving platter. Then remove the turnips from the pot with a slotted spoon and arrange them around the duck. Discard the bouquet garni. Keep this platter hot in a turned-off oven.
Degrease the cooking liquid as much as possible with a metal spoon. You should then have no more than 3 cups of sauce. If there is more, reduce at a full boil. Correct the seasoning and pour over the duck and the turnips. Serve straightaway.