Place the shrimp in the bowl of a food processor fitted with the steel blade. Add 1 teaspoon of rice wine and a pinch of salt, and pulse-process to make a fairly smooth paste.
Wash and trim the scallion, then mince it before adding it to the shrimp paste. Pulse-process so that it's well distributed. Sprinkle the cornstarch over the shrimp paste and pulse-process again to combine all the ingredients thoroughly.
In a saucepan, combine the chicken stock and sea stock, and bring to a boil. Season with 1 teaspoon each of rice wine and light soy sauce and, if you think it's needed, a pinch or two of salt. Bring this seasoned broth to a gentle boil.
Moisten your hands with cold water and form eighteen small spheres from the shrimp mixture. Poach these three or four at a time in the seasoned broth, simmering each batch for 1 minute after they float to the surface. Remove them gently with a slotted spoon and set them on a plate. When you've finished poaching all the shrimp dumplings, pour the broth through a cloth- or paper-lined strainer or colander into a quart measure. Add water, or fresh sea stock if you have it, in order to make 1 quart of liquid.
Snap back the stem end of each snow pea pod and pull back along the straight side to remove the string. Blanch the pods in several cups of boiling water just to brighten their color (about 10 seconds). Drain and cool as rapidly as possible under cold water. Pat dry, and trim to resemble leaves, as illustrated.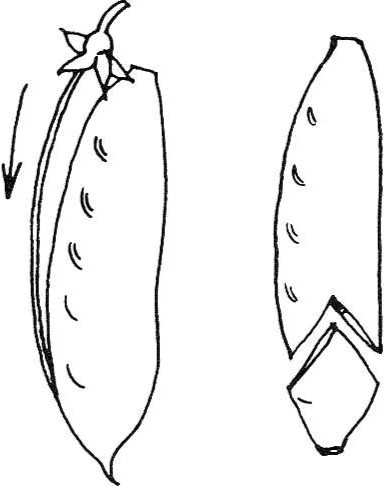 Put the quart of strained broth into a saucepan. Add the shrimp dumplings and heat both thoroughly. Serve three dumplings per bowl with hot broth, garnishing each portion with two decorative snow peas.