Scrub the clams with a stiff brush, then soak them in several cups of salted water (it should taste briny, like the ocean) for 45 minutes‒ 1 hour. Stir up and discard the water. Repeat this procedure to get rid of all sand and foreign matter.
Lay the dried kelp in a large, wide-mouthed pot, and pour 6 cups of cold water over it. Place the clams in the pot, cover, and bring to a boil rapidly over high heat. Continue to cook over high heat for 1 minute, or until you hear the clams opening. At most, cook for 3–4 minutes. Then remove the pot from the heat. (Some clams never open and must be discarded. You'll want to serve at least two or three per person, so include a few extra in the pot.) Set aside the steamed clams in their open shells.
Pour the broth from the pot through a cloth- or paper-lined strainer or colander. Discard the kelp, Simmered Mushrooms and Kelp, Kelp Squares with Fragrant Pepper (or save for making the recipes). Gently rinse the clams if they seem sandy. Remove half the shell of each clam so that it fits more easily into an individual soup bowl.
Season the reserved broth with the salt, rice wine, and light soy sauce. Keep this broth barely simmering over low heat while you make the decorative lemon peels. Use a sharp, small stainless-steel knife or small scissors when shaping the peel.
In the fall or winter months, shape your lemon peel into pine needles: For each serving cut one or two long, narrow, triangular wedges. Trim them as illustrated.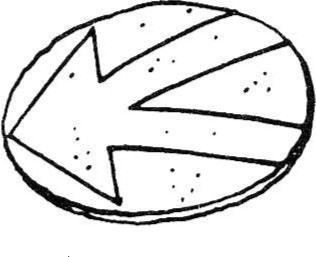 In the early spring, shape your lemon peel into cherry blossom petals: For each serving, cut three oval shapes, each about ½ inch long and no more than ¼ inch at the widest spot. Trim each as illustrated.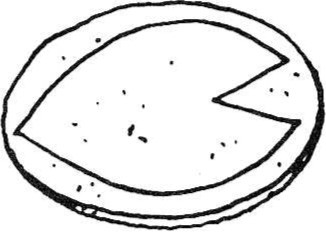 At all other times of the year, a simple flower shape is best: Cut one circle per serving. The circles should be 1 inch in diameter. Trim each one as illustrated.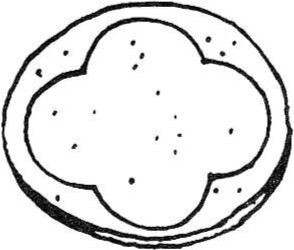 To serve the soup, place two or three clams in each bowl and pour hot seasoned broth over them. Float the decorative lemon peel on top of the soup. Serve immediately.