Preheat your oven to 200 degrees if you'll be preparing the tempura in your kitchen in many batches and bringing it to the table on one tray.
In a small saucepan, mix the sauce ingredients together and heat through.
Wash the zucchini, then slice off about ½ inch from the stem end of each. Using this stem piece, rub the cut surface in circular motions until a thick white foam appears; rinse it away. This is what the Japanese call aku nuki or "bitterness removal."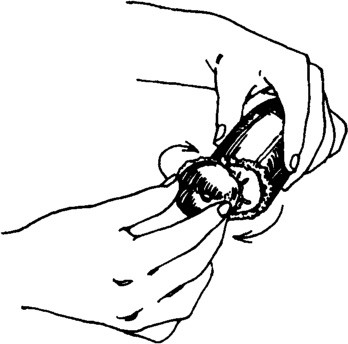 Slice the zucchini into sticks approximately 2–2½ inches long and ¼ inch thick. Cut the pumpkin into sticks of approximately the same length. With scissors, cut the seaweed into about forty strips, each approximately 3 inches long and ¼ inch wide. You can make bundles of each vegetable separately, or combine the two. Each bundle should contain three or four vegetable sticks. Wrap a single band of seaweed around the middle of each bundle of sticks, sealing it with a drop of water and the pressure of your fingertips. These bundles can be made up to 4 hours before frying if stored in the refrigerator on a covered, paper-towel-lined plate. If necessary, just before frying, use 1–2 tablespoons of the flour to toss with the vegetable bundles and dry any surface moisture.
Pour the ice water into a metal bowl, where it will stay chilled longer. Sift all of the remaining flour, baking powder, and salt together in a separate bowl. Sprinkle the flour mixture over the water, stirring to just barely incorporate. Lumps are fine.
Your oil should be at least 2½ inches deep. Even though the Japanese prefer to use a flat-bottomed pot for deep frying, I personally find a Chinese wok the best vessel since it requires less oil to attain the same depth. Heat your oil to about 370 degrees. A test drop of batter should sink ever so slightly, rise immediately, and puff, but not color, on the surface of the oil. Dip the vegetable bundles, one at a time, in the batter to coat them lightly. Deep fry for 1–1½ minutes, turning once or twice to ensure even coloration. The batter should be crisp, but barely beige. Fry four or five bundles at a time. Drain the fried vegetables on a paper-lined rack and keep the first batches warm in a 200-degree oven while you finish up.
Keep the sauce warm on a very low flame, or reheat just before serving. Serve the vegetable bundles immediately, arranged around a bowl with warm dipping sauce.