Place the ground veal in a small pot and season with 1 teaspoon each of soy sauce, rice wine, and sugar. Add the minced ginger and cook over medium heat, stirring to break up the lumps, for 3–4 minutes. When the meat changes color, turn the heat up a bit to reduce the liquid more rapidly. The liquid from the meat may seem cloudy at first, but it will clear as you continue to cook, stirring constantly. Remove the pot from the heat and let the mixture cool slightly.
Cut the chicken into 1- to 2-inch chunks and place them in the bowl of a food processor fitted with the steel blade. Pulse-process to chop the meat finely. Add the sugar, soy sauce, and egg yolk seasonings to the chicken and continue to process to a fairly smooth paste. Sprinkle the cornstarch over the paste and pulse-process to incorporate well.
In a bowl, combine the chicken paste with the cooled, crumbly, cooked veal and stir until both meats are fully integrated. Fold a 12-inch-square piece of heavy-duty aluminum foil in thirds, lengthwise. Lightly oil the top surface of the foil and place the chicken and veal mixture on it. With lightly oiled hands, shape the meat mixture into two neat rectangles, each approximately 2 by 5 inches and ½ inch thick. With scissors, cut the foil to separate the loaves.

Lightly oil and heat a 7-inch skillet over medium heat and invert one of the pâté loaves into it, peeling off the foil. Sear for 1 minute; then, with the help of a broad, flat spatula, flip the meat over and cook for 1 more minute, before carefully removing this loaf to a flat plate. Repeat this sear-and-flip procedure for the second loaf. (If you have a skillet large enough to accommodate both loaves at once, it will simplify things considerably.)
Return the two seared loaves to the skillet and add the syrupy rice wine, 2 tablespoons of soy sauce, and water. Cover the skillet and cook for 2–3 minutes over medium heat. Flip the pâté loaves over, cover, and cook for another minute. Remove the cover and, shaking the skillet gently, glaze the loaves. Remove the skillet from the heat and allow the pâté loaves to cool for 20–30 minutes. The loaves can be made up to this point, covered, and refrigerated for several days. Return them to room temperature before proceeding with the recipe.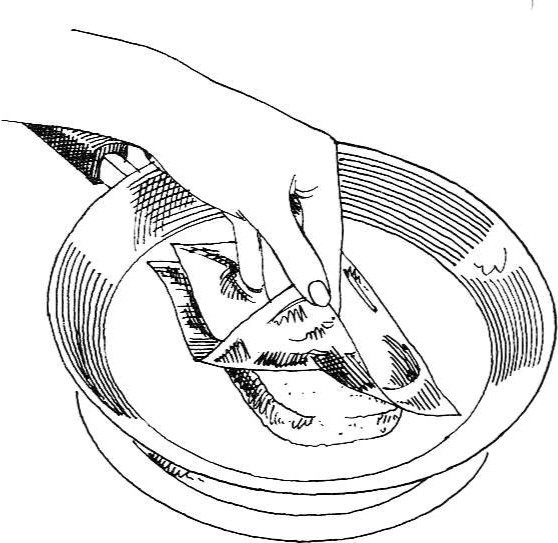 Transfer the loaves to a cutting board and slice into eight fan shapes, as illustrated. Insert two wooden toothpicks in the smaller arc of each fan.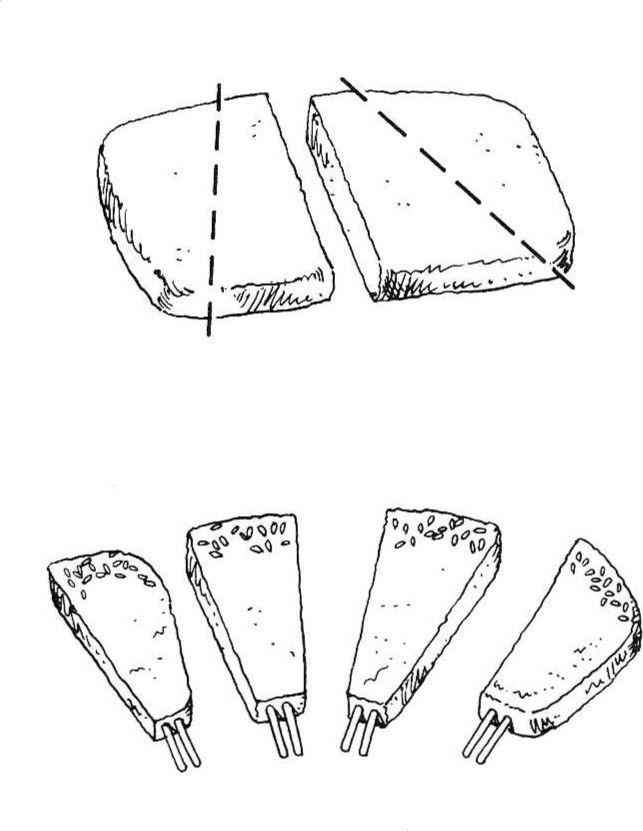 In a clean, dry skillet, roast the sesame seeds over medium-high heat for 20–30 seconds until they just begin to color slightly or a few pop. Shake the pan to keep the seeds in motion. Sprinkle a few roasted seeds on the larger arc of each fan.