Soak the gourd in warm water to cover for about 10 minutes. Drain and rub the salt into the gourd, much as you might wash a skein of wool. Rinse the gourd in cold water and let it soak in fresh warm water for another 5 minutes. Drain well and pat dry. Keep the gourd as a long single strip if you can, since it will simplify the job of tying the rolls later.
Take one piece of softened kelp and roll it tightly into a scroll. You'll find it easier if you place the slightly slippery kelp on paper towels as you roll. Tie the roll around its middle with the gourd, finishing with a double knot. Each roll will use about 5 inches of gourd ribbon, but don't cut off the excess until your knot is secure. Then trim the gourd ribbon so that it extends no farther than the ends of the roll. Repeat this roll-and-tie procedure to make twelve miniature-diploma-like scrolls.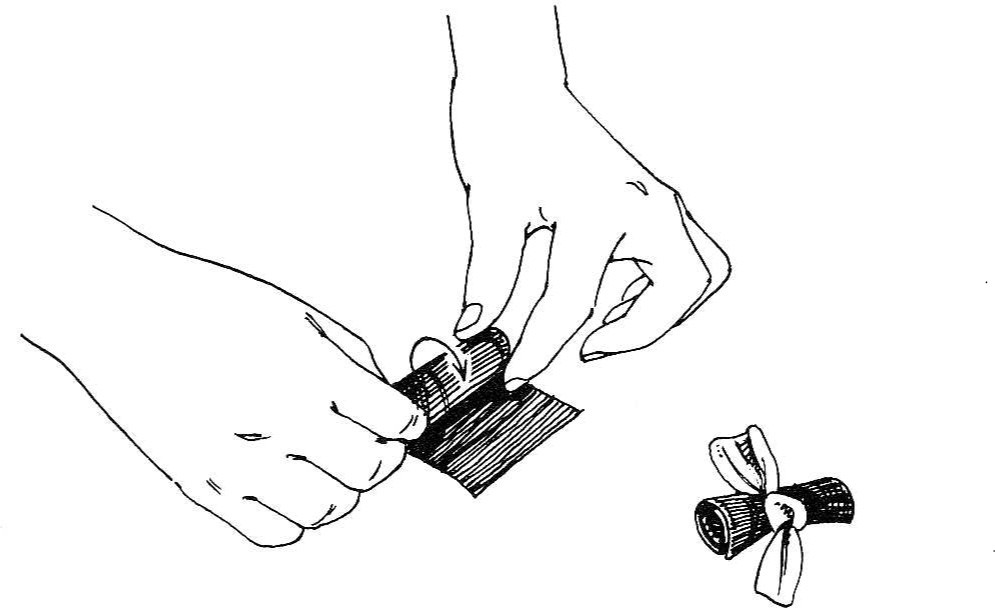 Combine 1 cup of cold water and 1 teaspoon of rice vinegar, in a shallow pan or skillet large enough to hold all twelve rolls in a single layer. When you've brought the acidulated water to a rolling boil, add the kelp rolls. Reduce the heat slightly and cook the rolls for 5 minutes, skimming away any foam that accumulates on the surface. With a slotted spoon, remove the rolls and set aside. Discard the acidulated water, rinse the pan, and bring another cup of cold water and teaspoon of rice vinegar to a boil. Add the kelp rolls, reduce the heat slightly, and cook for another 5 minutes. Drain the rolls and set aside.
Rinse the pan, add the stock and rice wine, and bring this liquid to a simmer. Add the rolls and over low heat, with the pan partially covered, cook for 5—6 minutes. Add the sugar and continue to cook for another 5 minutes. Stir in the soy sauce and simmer for an additional 5 minutes. The liquid will become greatly reduced and very foamy. Add the syrupy rice wine and continue to cook for 1 more minute. You'll notice a glaze forming; swirl the pan to glaze all the rolls well. If at any point in the cooking process the rolls appear to be in danger of scorching, add a few more drops of stock or water and adjust the heat accordingly. If after a total of 15 minutes cooking there's still a great deal of liquid left in the pot, raise the heat to high and cook, shaking the pan, to reduce the liquid to a glaze. Remove the pan from the heat.
Let the kelp rolls cool in their glaze to room temperature. Serve at room temperature, or chilled. The rolls will keep, covered, in the refrigerator for 5–6 days.