Place the stewed clam meats in the bowl of a food processor fitted with the steel blade. Pulse-process the clams until very finely minced. Toss the minced clams into the seasoned rice, then toss in the pink pickled ginger, too. Gently mix until all are evenly distributed.
With hands or spoon moistened with water, divide the rice into thirty even portions. Using either your hands or a dampened but well-wrung-out cloth, compact the rice in each portion to make a 1- to 1½-inch patty. Keep the patties covered with a damp cloth while working. They can be kept covered at room temperature for 2-3 hours.
Trim the circles of omelet, if necessary, to remove dry, brittle edges. Take a single circle of omelet and place a patty of rice off-center on it. Fold the omelet in half, then in half again, enclosing the rice in a triangular wedge-shaped cover. Repeat to make twenty-nine more.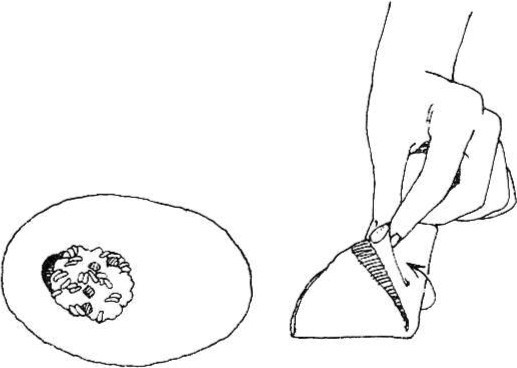 To create a pattern similar to clam shells on the omelet cover, each piece of sushi will need to be seared with a hot metal skewer. Hold the tip of a metal skewer directly over a low gas flame, or place it directly on an electric coil set to high. When very hot, remove the skewer from the source of heat and rest it against the omelet. The sugar in the omelet will caramelize, leaving a reddish-brown mark. Usually enough heat is retained in the skewer to make two or three lines before reheating. Each piece of sushi will require three lines. Continue until you've marked all thirty pieces of sushi, (This procedure will probably take 15–20 minutes and can be done up to 2 hours in advance of serving.) Place the sushi on your serving platter and cover snugly with clear plastic wrap until ready to serve. Keep the platter at room temperature, away from excessive heat or cold.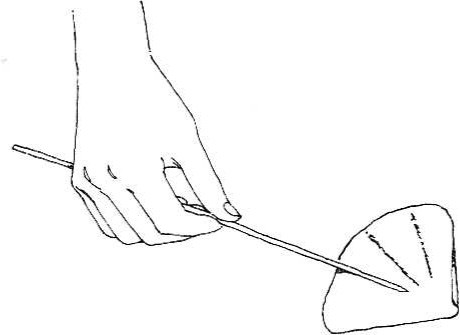 Remove the strings from the snow peas. Bring a pot of salted water to a rolling boil and blanch the snow peas for 10 seconds. Drain immediately and refresh the snow peas under cold water. Drain again and pat dry. Arrange two or three snow pea pods, points facing up, in a fanlike bunch. This can be prepared up to 1½ hours before serving.
To garnish a large platter, wedge these bunches of snow pea pods at random between the "clams" to simulate tufts of sea grasses that might be found on a sandy beach. If serving two Clam sushi as a single portion, you may prefer to decorate individual plates with a scattering of snow peas cut into thin, diagonal julienne strips.