In a clean, dry skillet, roast the sesame seeds over medium-high heat for 30–40 seconds until they begin to color slightly or a few pop. Shake the pan to keep the seeds in motion. Set aside.
Prepare the pickled vegetables: Rinse the yellow pickled radish under cold water and pat dry on paper towels (the color of this and other pickles may bleed a bit, so avoid cloth). Either slice the pickle in long, very thin julienne shreds, or into ¼-inch-thick sticks, preferably 6 inches long. If you're using the pickled burdock, rinse and pat dry on paper towels. Drain the pickled herb seeds and cucumber of all excess liquid. Rinse the purple pickled eggplant and gourd under cold water and pat dry on paper towels. Slice the thicker pieces into strips no wider than ⅛ inch. Drain the pink ginger and chop coarsely.
Cut one sheet of seaweed into three broad strips.
Lay one sheet of seaweed on a sudaré (slatted bamboo mat), rough side up, with one of the shorter sides closest to you. With hands dampened in cold water, take one third of the seasoned rice and spread it evenly over two thirds of the seaweed, leaving a broad border on the far side. Sprinkle one third of the toasted sesame seeds across the center of the rice, then place one of the three strips of seaweed over the seeds.
Arrange one third of the pickled vegetables on the seaweed in bands of bright color: the yellow takuan or orange gobō green herb seeds and cucumber, purple eggplant and gourd, pink pickled ginger. Roll the sushi snugly away from you and let it sit, seam side down, for a few moments before slicing it with a sharp knife into six pieces. Moisten the blade of your knife between slices by wiping it on a damp cloth.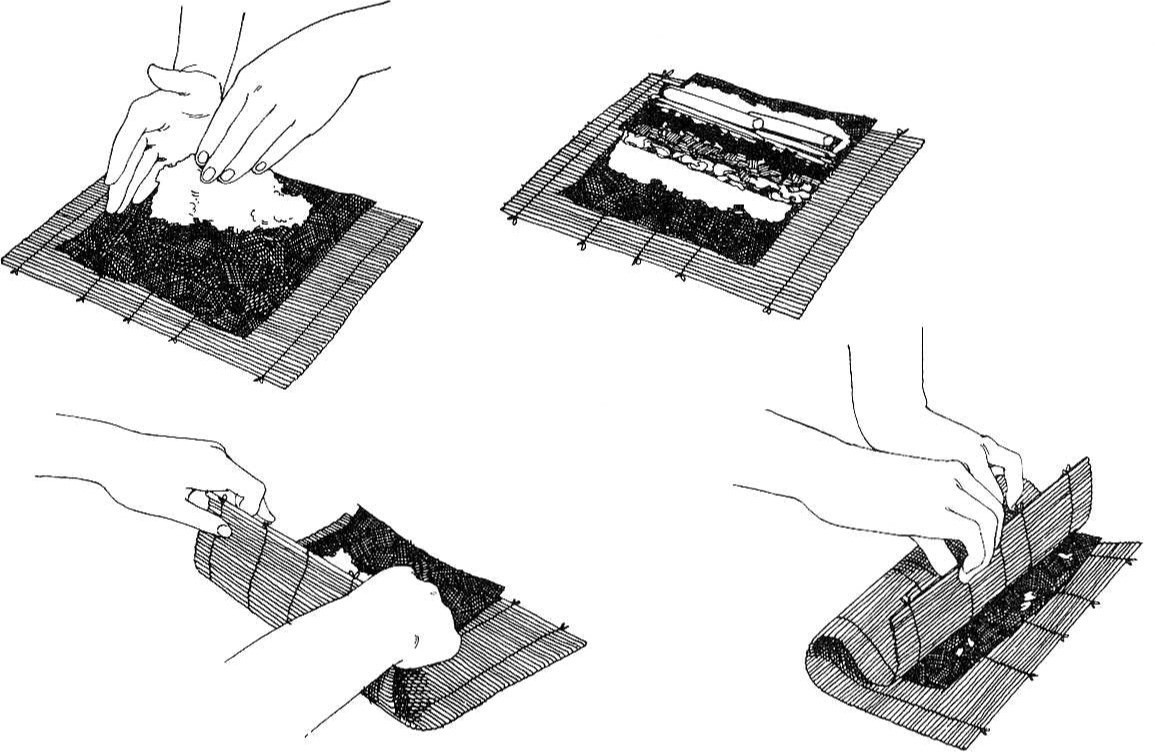 Repeat the assembling and rolling procedures to make two more rolls, yielding eighteen slices in all. Arrange the slices in rows, domino style, on a large unpatterned platter. Serve with soy sauce for dipping, if you like.