Place the sugar, egg white, and cream of tartar in a deep bowl and beat the mixture with a hand-held mixer on low speed until smooth. Raise the speed to high and continue to beat for 3–4 minutes until the mixture becomes thick and very white and holds fairly stiff peaks.
With a rubber spatula, scrape up one quarter of the mixture and transfer it to another, smaller bowl. Sprinkle the cocoa powder over this frosting and stir it in until combined.
Sprinkle the powdered tea over the larger bowl of frosting and beat it in, on low speed, until completely combined.
Cover two cookie sheets with clear plastic wrap. Make two paper cones from cooking parchment; fill one with the green tea mixture and the other with the cocoa mixture. Snip the pointed end from the green tea cones so that the icing pipes out in ⅛-inch strings. Snip the pointed end from the cocoa cone so that the mixture pipes out in 1/16-inch strings.
With the green tea mixture, pipe out long, narrow V shapes on the clear plastic surface. Pipe out an occasional 4 shape with the crossline extended. Don't crowd the candies. There will be enough icing to pipe out sixty or seventy pieces. The candies become quite brittle when they dry, and breakage occurs; even so, you'll end up with fifty or more delicate and lovely pine-needle sweets.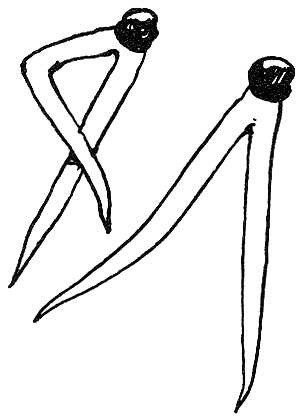 With the cocoa icing, pipe a few strokes across the spot where the sides of the V merge. This will aid the illusion of pine needle pairs.
Let the candies dry at room temperature for 3 hours or more. They should be stiff when you remove them from the plastic wrap. Gently peel back the wrap and lay the candies on a wire rack for a final hour of drying.
Store the candies on a loosely covered plate at room temperature for up to 24 hours. For longer storage, line a lidded plastic or metal container with paper towels to help prevent breakage and chipping, and carefully place the Pine Needle Candies on the soft lining. The candies will stay fresh for several weeks at room temperature and may be frozen for a month or more. When defrosting the candies, place them uncovered on a rack so that air circulates around all surfaces.