It is a very simple matter to make the basic fish paste in a food processor, blender or even a meat grinder. (The traditional Japanese method is to chop the fish fine, then grind it in a serrated mortar.) Coarsely chop the fish fillets and feed them into your machine (if using a meat grinder, put it through twice) and continue to mash and grind the fish until it forms a smooth, glossy mass. Add the flour and cornstarch and turn on your machine for a few seconds to blend it in. (If you are using a meat grinder, transfer the ground fish to a bowl and beat in the remaining ingredients with a fork or whip.) Add the egg and salt and blend again.
Peel the burdock root, cut it lengthwise into 4 strips, and soak them in a small bowl of cold water for a few minutes while preparing the shrimp. Remove the shells of the shrimp, leaving the tail sections intact. Devein, then score the underbelly lightly to prevent them from curling up when frying. Pat dry the burdock strips and the shrimp.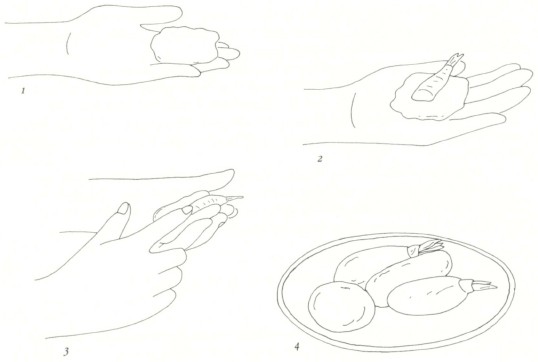 Lightly oil a plate, then your hands. Scoop up about 1–1½ tablespoons of the fish paste and form a small patty (1). On some patties lay a strip of burdock, on others a shrimp and roll the patties to enclose the filling (2, 3). The burdock root should be completely covered by the fish mixture (to prevent discoloration when frying), but the shrimp tails should be left sticking out one end. As you finish each dumpling lay it on the oiled plate (4)

Heat your oil for deep frying to a medium temperature (300–325 degrees F.) and fry the filled fish dumplings, a few at a time, until golden and cooked throughout (about 5 minutes). Drain them well on paper towels.
Season 1 quart of the soup stock with 1 tablespoon soy sauce, the syrupy rice wine and regular rice wine. Bring the soup to a boil, reduce the heat to barely maintain a simmer and add the fried fish dumplings. Cover with a dropped lid and cook for at least 30 minutes or, if you have the time, for an hour and a half. Add more soup stock, seasoned with soy sauce, as necessary to keep the dumplings covered at all times.
Cut the konnyaku cake into 4 squares, then cut each of these in half diagonally to make 8 small triangles. Peel the radish and cut 4 one-inch-thick slices. Cut these into half moons or quarters. Add the vegetables and vegetarian patties to the dumplings for the last 15–20 minutes of cooking. Serve mustard on the side for dabbing.